New Twilight Zone trailer is full of classic throwbacks
Jordan Peele's new Twilight Zone reboot pays respect to Serling's legendary anthology series.

Published Thu, Feb 21 2019 2:10 PM CST
|
Updated Tue, Nov 3 2020 11:49 AM CST
It'd be hard to make a Twilight Zone reboot or continuation without acknowledging Rod Serling's original parables of weirdness. I'm happy to see CBS has peppered its new Twilight Zone series with lots of little nods to the black-and-white anthology of yore.
Every 20 years or so The Twilight Zone gets brought back. Many remember the original 1960's version narrated by Rod Serling, but there's actually three different series: an 80's reboot (which is quite excellent) and 2000's series (which 80% miss and 20% hit). Now in 2019, almost 20 years after the last resurrection, a fourth is coming--and it's coming soon. CBS placed a new Twilight Zone reboot in Jordan Peele's hands to help create little slices of macabre morality. The latest in Twilight Zone's legacy will begin on April 1, 2019, CBS today announced with new footage.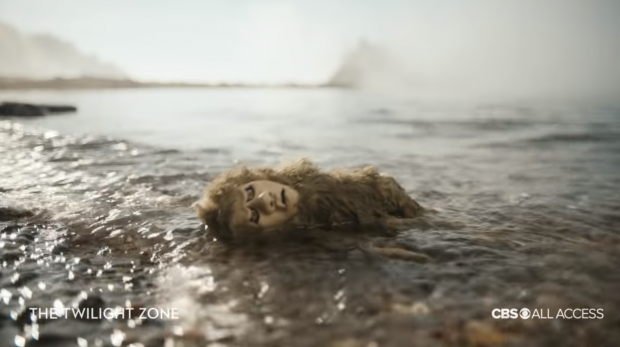 The latest trailer has a ton of little Easter eggs that Twilight Zone fans will recognize immediately. The hilarious-now but scary-for-its-time monster that espoused Shatner's famous line "there's...something on the wing...some...thing!" in Nightmare at 20,000 Feet can be seen washed up on a beach shore.
The devil bobblehead that predicted the future (another Shatner short) in Nick of Time is present, head dangling menacingly. The stopwatch that froze time in A Kind of Stopwatch is also present, presumably having something to do with the time rewind focus of an episode.
The footage also gives clues on some of the episodes' focus. I love going into these things blind so I'm kind of disappointed CBS dropped so much info, but there it is. There's what appears to be a Walkman tape recorder that can predict the future.
There's the aforementioned wind-up stopwatch that probably rewinds or stops time, and even a child President of the United States. And maybe, just maybe, the video camera that's smashed at the end is a throwback to the Most Unusual Camera episode about a weird, junky old camera whose pictures tell the future.
As a huge Twilight Zone fan I absolutely can't wait to binge the show when it releases exclusively on CBS' new All Access streaming service starting April 1, 2019.
Related Tags