Age of Wonders: Planetfall release date/story trailer debut
Join in on the fight in Age of Wonders: Planetfall on August 6th, 2019.

Published Wed, Feb 20 2019 5:00 AM CST
|
Updated Tue, Nov 3 2020 11:49 AM CST
Paradox Interactive, the publisher well-known for its participation in strategy games has debuted a trailer for a new coming release, Age of Wonders: Planetfall.
The above story and pre-order trailer has been released onto the official Paradox Interactive YouTube Channel and starts off with an epic cutscene of our heroes landing on a planet. Once we arrived the soldiers are ambushed by other inhabitants of the planet, each of the factions seen in the story trailer are playable and total "six unique factions".
Age of Wonders: Planetfall takes all the aspects strategy game fans know and love from the previous Age of Wonders games and throws them into an epic sci-fi setting. Players will be able to enjoy the "militant Vanguard to the dinosaur-riding Amazons and the cyborg-zombies of the Assembly". While also learning to "fight, build, negotiate and technologically advance your way to utopia in a deep single player campaign, on random skirmish maps, and against friends in multiplayer."
Key Features:
Tactical Turn-Based Sci-Fi Combat:

Perfect your combat strategy in intense turn-based battles featuring a large cast of factions, customizable units, and destructible environments.

Discover a Rich Science-Fiction World:

What secrets will unfold when you uncover the history of the fallen galactic empire? Discover the fate of the Star Union by exploring lush landscapes, wild wastelands and overgrown megacities. Encounter rival factions and discover hidden technologies long forgotten in abandoned places.

Planetary Empire Building:

Steer the future of your colony with a mix of technological advances and social development. Will you create an environmental paradise or a perfect military order?

Multiple Paths to Victory:

Achieve your end goals through conquest, diplomacy or doomsday technologies.

A Multitude of Game Modes:

A deep single-player story campaign alongside random map generation makes for endless re-playability. Try new play styles in skirmish mode, and play multiplayer your way - online, hotseat, and asynchronous!
Age of Wonders: Planetfall is currently available to pre-order. There are three separate editions that are available to pre-purchase - $50 base game, $60 Deluxe Edition and an $80 Premium Edition. Below I have provided the bonuses for each of the respective editions.
Pre-Order Bonus (for all editions)
Paragon Noble Cosmetic Pack - Bring fashion and flare to the final frontier!
Deluxe Edition Content:
Bravado Bundle Cosmetic Pack - Nothing says "We're here to rebuild society in our image" like a really boss bandana.

Spacerpunk Cosmetic Pack - Your style won't conform to the rules of a fallen galactic society!

Infested Worlds Scenario Planet - Survive in a world overtaken by alien flora and fauna dominated by Kir'ko factions!
Premium Edition Content:
Age of Wonders Planetfall: Premium Edition includes both the Deluxe Edition Content and the Season Pass, which gives players access to three upcoming expansions and a platform-specific instant reward.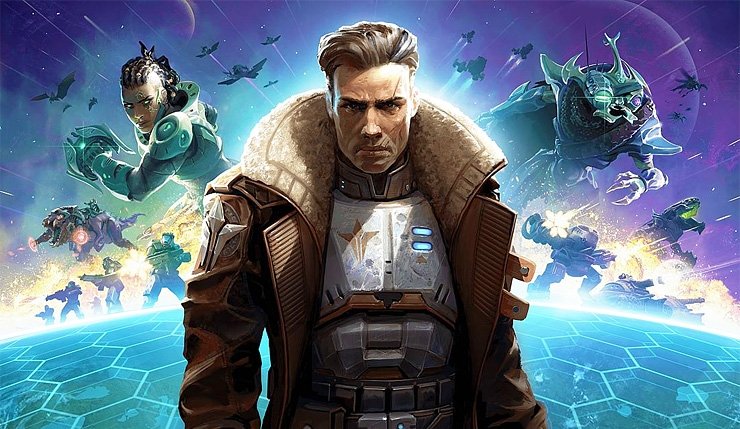 Related Tags