Contrary to recent reports, EA confirms that Anthem's cosmetics won't have a dual hybrid-currency cost.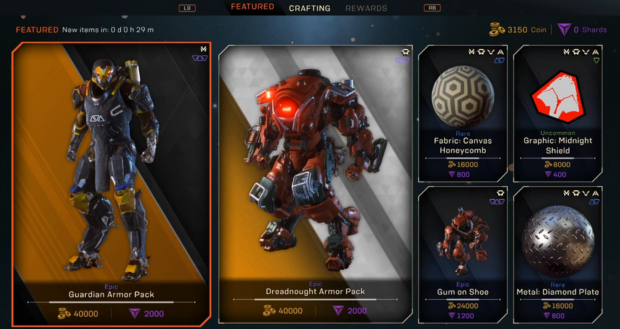 Anthem has two currencies: Coins, which are earned for free by completing objectives and missions, and Shards, a premium currency that can be purchased with real money. Previous reports say gamers would have to spend both Coins and Shards to unlock cosmetics like skins, decals, and emotes in the game. But EA says otherwise, confirming that gamers can spend either Shards or Coins to get new cosmetics--not both. This means users can buy Shards to directly unlock new customizations, and that Anthem will be monetized in a similar way as most live games.
"While there are indeed two currencies in the game (Coins and Shards), you can buy cosmetic items with either Coins or Shards. You don't need to spend both. Each item has a Coin price and a Shard price, and you'll only use one currency or the other to purchase them," EA told us in a statement, correcting our article about what we hoped was a new disruptive monetization method.
Previously we thought Anthem required a mix of Coins and Shards for cosmetics. This would've forced microtransaction buyers to actually play the game and tackle events, missions, and other content to accrue Coins to spend.