Fallout 76 secret room found, contains every item in game
Human NPCs do exist in Fallout 76...at least in this special developer zone.

Published Sat, Jan 12 2019 1:27 PM CST
|
Updated Tue, Nov 3 2020 11:49 AM CST
All Bethesda Game Studios games have "cheat rooms," or little slices of the world cordoned off from the main game that have every item in the game. These areas are kind of like the space between worlds, a Twilight Zone of goods, gear, and content that didn't make it into the final game. They exist for developers to test out various scenarios and ensure items act the way they should. Fallout 76 has such a zone, and it's been accessed by players.
Remember the console commands "coc qasmoke" and "coc testqaitems" from Fallout 3 and Fallout 4 that granted you access to a special cheat area? Fallout 76 may be a live game but it's not that different than its predecessors in this respect--it has a QA zone too, but it's not accessible by console commands. Gamers have found a way to jump into the area and have found all sorts of surprises, including a human NPC called Wooby, as well as every item in the game.
Access essentially makes you into a god and removes the need to keep playing outside of leveling up. Everything from the weakest pipe pistols to the most powerful of weapons and gear can be found here, complete with unreleased power armor skins. Recipes and plans all have their own containers, and looking them over shows just how fragmented and grindy Fallout 76 actually is.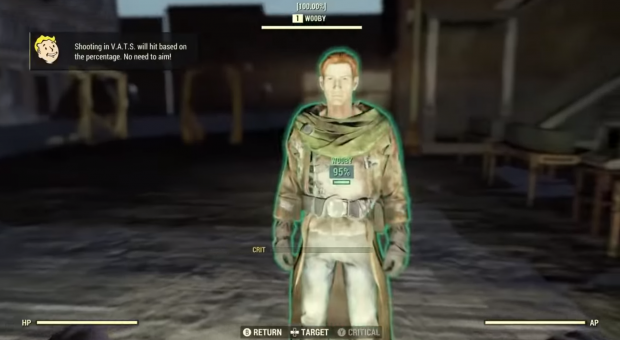 Fallout 76's only human NPC, Wooby, is stuck between worlds.
These areas, which are used for quality assurance testing, are fine for offline games. But being able to freely access containers with every consumable, crafting material, weapon and armor in the game essentially disrupts Fallout 76's grind-based engagement mechanics. The whole idea is to keep players playing for as long as possible so they might eventually spend money in the Atomic Shop microtransaction store.
Predictably enough, Bethesda is taking action against anyone who accesses the zone.
Sources tell Eurogamer that players to go into the QA zone automatically have their accounts suspended. Player characters who enter are "corrupted" and then have to contact Bethesda and explain themselves, essentially informing the devs with detailed info of how they accessed the area.
What's most interesting here is the unreleased content. This means the QA room is live and the stuff inside will change over time, just like Fallout 76 as a whole. So more goodies, gear, and items will be added to the zone for testing before they roll out in official patches and updates, meaning repeated access could give lots of clues on what's to come for the game.
I'm mostly intrigued by Wooby, the human NPC. In my Fallout 76 review I repeatedly said that the game's lack of human NPCs was a massive downfall, and it appears the devs may have a change of heart at some point and add in more characters to the world.
Related Tags