Razer HyperSense: vibration in ALL of your peripherals
Razer unveils its HyperSense ecosystem, which will sync all peripherals including a gaming chair with vibration.

Published Wed, Jan 9 2019 2:15 AM CST
|
Updated Tue, Nov 3 2020 11:49 AM CST
CES 2019 - Razer had an onslaught of announcements at CES 2019 with refreshed Rader Blade 15 gaming notebooks packing NVIDIA GeForce RTX graphics, a new Razer Raptor gaming monitor, and also HyperSense: a high-fidelity haptics ecosystem, in Razer's own words.
What Razer is trying to do with HyperSense is deliver a new level of realism to gaming on the PC, where your peripherals - even including your gaming chair, will have tacticle feedback through the use of haptic vibration in all of your devices. This will include the mouse and keyboard, the headset and even the gaming chair. Razer had a demo at CES 2019 where it ran people through Overwatch and DOOM on the PC where Tom's Hardware said they could "feel [Pharoah's] jetpacks from the chair" which, as an Overwatch addict, sounds incredible.
The chair reportedly provided "provided tactic sensation from behind, while the wrist rest simulated events coming from the sides" according to TH, where in DOOM he fell through a hole in the floor and his head "thudded, thanks to the headset". The haptic mouse and keyboard wrist rest was provided by Lofelt, while the haptic chair was from Subpac.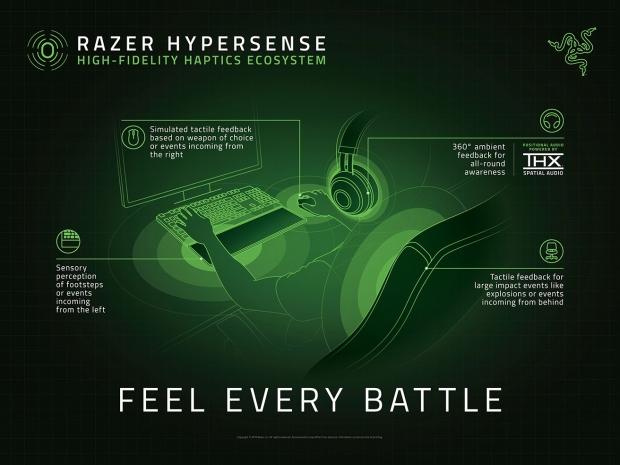 This isn't something that is coming from Razer tomorrow or even this year, as it is talking to developers to see if there's enough interest in making HyperSense a reality. I would love to see a full Razer kit that you could buy with a headset, keyboard, mouse, and gaming chair that was all HyperSense-capable, that would be cool. I feel like the vibration in the mouse and keyboard would be gimmicky, the headset would be alright but the chair vibration would really add to the atmosphere in many games, especially for landing, explosions, gunfire and jetpacks.
Related Tags