Intel is preparing its new flagship Xeon W-3175X processor to compete with AMD's continued Ryzen Threadripper threat, with the new CPU from Intel coming in as a 28C/56T chip in a world where Threadripper 2990WX chimes in as a 32C/64T beast.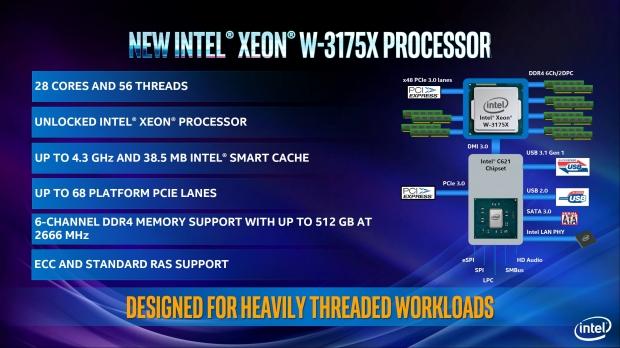 But now we have list prices on the Xeon W-3175W with the 28C/56T chip costing up to $4000 which is a considerable price for the super-enthusiast workstation monster from Intel. The new Intel Xeon W-3175X boasts 28 cores and 56 threads with a base CPU clock of 3.1GHz and boost CPU clock of 4.3GHz, packing 38.5MB of L3 cache, support for 6-channel DDR4 memory (512GB total), and a huge 68 PCIe 3.0 lanes (44 on the CPU, 24 from the PCH).
Some of the listed prices for the Intel Xeon W-3175X range from $3900 through to just under $7000... all the while AMD is selling the Ryzen Threadripper 2990WX processor for $1700, and it packs more threads than the Xeon CPU, for less than half the purported price of Intel's new flagship Xeon.