Far Cry: New Dawn uses a novel concept called "superbloom" to create a very colorful and vibrant post-apocalyptic world.
As we predicted, the latest Far Cry game is built on the bones of Far Cry 5, but the same way flora will grow from the remains of life, so too does New Dawn grow from the husk of irradiated Hope County, Montana. For its new game Ubisoft took a unique spin on atomic catastrophe. Rather than focusing on nuclear winter with its cold and broken world as most games do, Far Cry: New Dawn introduces the concept of nuclear spring. You may have wondered why Hope County looks so alive and verdant after a nuclear apocalypse. Ubisoft has the answer: something called "superbloom".
The nukes knocked weather cycles off-kilter and essentially the world responded by terraforming itself. Thanks to superbloom, Hope County has been transformed into a lush playground after 17 years of metamorphosis with sand dunes to vault off of in 4-wheelers, strangely mutated creatures, and exotic flora. While it's technically a sequel to Far Cry 5 because it treads old ground, it's more of a standalone type of spin-off with new characters and a fresh story.
"We knew from the beginning we wanted to avoid the cliche post-apocalypse setting. We knew we wanted to make a world that's been colorful, inviting, and just really lush and different," said Isaac Papismado, art director for Far Cry: New Dawn. "People who are coming back from Far Cry 5, we also wanted them to explore something completely new and a different setting."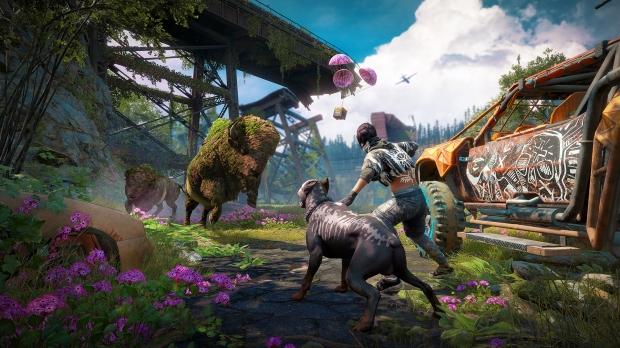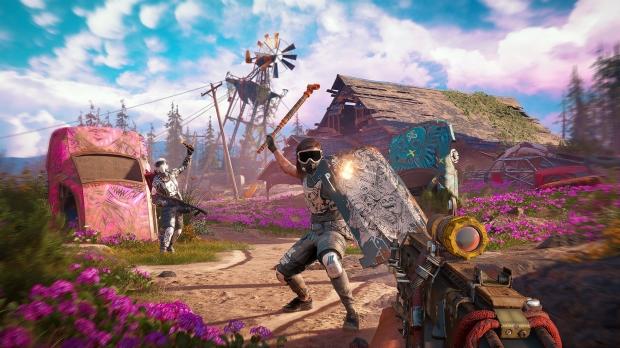 But what is the superbloom and how did it happen? Papismado explains:
"After the apocalypse happened, we added some years of nuclear winter where everything is dead, everything is dry and nothing is growing anymore. After that there was some periods of harsh winds where the winds were blowing around all the sands. And next up we have long periods of rain. And that's where Far Cry: New Dawn takes place. It's called the superbloom.
"What it means is that all of a sudden you have these beautiful flowers and beautiful lush vegetation coming out of a very desolate, dry place."
All in all Far Cry: New Dawn looks fun, colorful, and interesting. It's really built to extend the Far Cry brand with a new SKU and fold into sales of Far Cry 5 as well. It should also be monetized accordingly via its online-based co-op functionality, which will help Ubisoft push farther towards its microtransaction revenue goal for FY2019.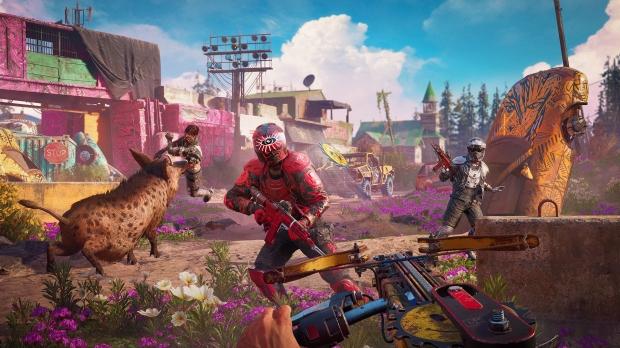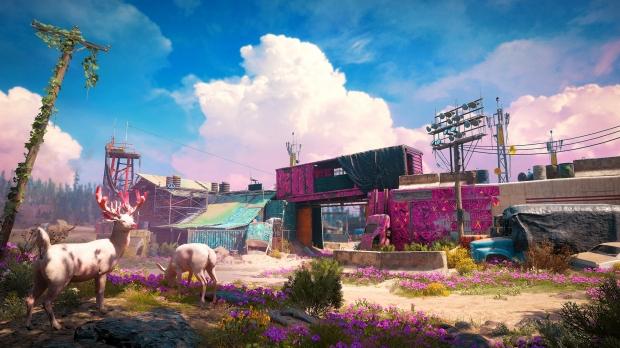 Far Cry: New Dawn is slated to release on February 15, 2019 on PS4, Xbox One and PC.
Check below for more info:
Seventeen years after a global nuclear catastrophe, civilization re-emerges from the chaos to find a world dramatically changed. In a post-apocalyptic Hope County, Montana, the remaining populace has gathered into different groups, each with their own rules for survival.

In this new world order, the vicious Highwaymen, led by twin sisters Mickey and Lou, travel from place to place bleeding people dry of all available resources. As the Survivors try to defend their lands against the Highwaymen's relentless onslaught, it's up to you to come to their aid and lead the fight.

In the latest installment of the award-winning Far Cry franchise, you are the last line of defense in a transformed, post-apocalyptic Hope County. Help the community of Survivors grow stronger, craft a makeshift arsenal through Turf Wars and cross-country Expeditions, and form unexpected alliances to fight for survival in a dangerous new frontier.

Key Features

FIGHT FOR SURVIVAL IN A BREATHTAKING POST-APOCALYPTIC WORLD

- Sprawling superbloom fields and dense overgrowth invite you into a wildly beautiful yet deadly post-apocalyptic landscape, to discover on your own or with a friend in two player co-op.

- Wildlife has not gone untouched by the disaster, with some predators evolving rugged natural defenses.

UNFORGETTABLE CHARACTERS COLLIDE WITH A RELENTLESS DOUBLE THREAT

- Clash with the brutal Highwaymen and their unruly leaders Mickey and Lou. Known as The Twins, these sisters combine brains and brawn to give their army an iron grip on Hope County's precious resources.

- Recruit an eclectic cast of Guns and Fangs for Hire to fight by your side. These new allies, as well as some familiar faces, each bring unique and critical skills to the fray.

- Find the former doomsday cult and seek out the charismatic leader who prophesized the collapse of civilization: Joseph Seed.

GROW THE SURVIVORS TO BUILD UP YOUR HOMEBASE

- Specialists join the Survivors to help you craft weapons and vehicles, train your Guns for Hire, and even go on Expeditions from the eight Homebase facilities: the workbench, training camp, explosives lab, infirmary, garage, healing garden, cartography, and expeditions.

- Grow your community and upgrade your Homebase to improve your facilities and unlock more powerful weapons and gear.

BATTLE FOR RESOURCES IN HOPE COUNTY AND BEYOND

- Engage the Highwaymen in Turf Wars by clearing their outposts and then scavenging them for Ethanol and other materials. When the Highwaymen return with stronger reinforcements, you can take on a greater challenge for even more of these valuable resources.

- For the first time in Far Cry, the adventure is not just local. Venture outside of Hope County on thrilling Expeditions to unique and memorable locations across the USA including wetlands, canyons, and coastal regions.

- Expeditions and Outposts are different every playthrough, for rewarding missions that increase in challenge and are surprising every time.