Game of the Year 2018 nominees: 6 games worth playing
The Game of the Year nominees are in, so here are the 6 games you should definitely consider playing.

Published Wed, Nov 14 2018 3:00 AM CST
|
Updated Tue, Nov 3 2020 11:50 AM CST
The 2018 Game of the Year nominees are in and this time round we have a selection of very well received titles from across a range of different fan bases.
Some will remember the controversy last year about the nominations for Game of the Year. PUBG was just exploding and giving birth to what is now the Battle Royale genre craze, this earned it a spot in the 2017 Game of the Year nominations. Many people didn't like the idea of, what was at the time, a not completed game being in apart of the Game of the Year rewards. This year though, I don't think many people will be complaining with the games that have been selected to compete against each other.
The Game of the Year nominees for 2018 are the following: Marvel's Spider-Man for the PS4, Rockstar's Red Dead Redemption 2, Capcom's Monster Hunter: World, Sony Santa Monica Studios' God of War, Matt Makes Games' Celeste and Ubisoft's Assassin's Creed Odyseey. If I was to give my opinion on who will be taking this years Game of the Year, I would say it would have to be a toss up between Marvel's Spider-Man and Red Dead Redemption 2. Both titles sold amazingly well are renowned as some fantastic games in their own regards. Who will take first place though? I'd be putting my money on Red Dead Redemption 2.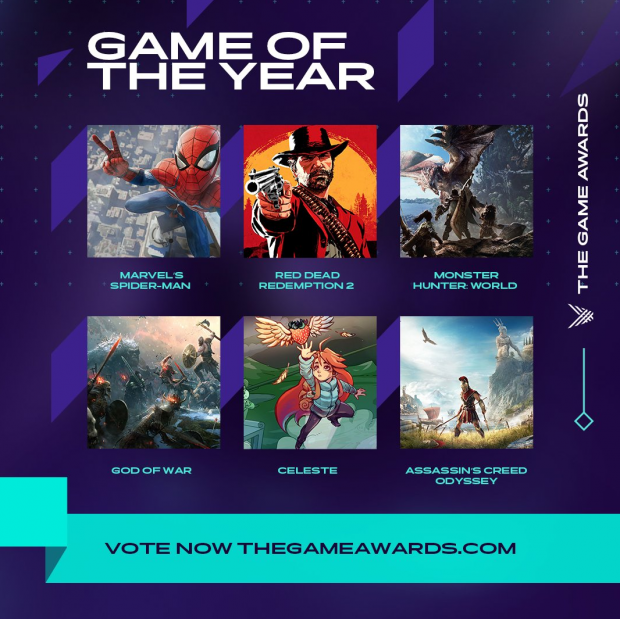 Related Tags