Ronald McDonald 'will not' be in Super Smash Bros. Ultimate
Ronald McDonald will sadly not be apart of the Super Smash Bros. Ultimate fighting roster, at least as of right now.

Published Mon, Nov 12 2018 4:00 AM CST
|
Updated Tue, Nov 3 2020 11:50 AM CST
The Super Smash Bros. fighting roster can now rule at least one character out for the possibility of being apart of the planned DLC pack, and that is unfortunately Ronald McDonald.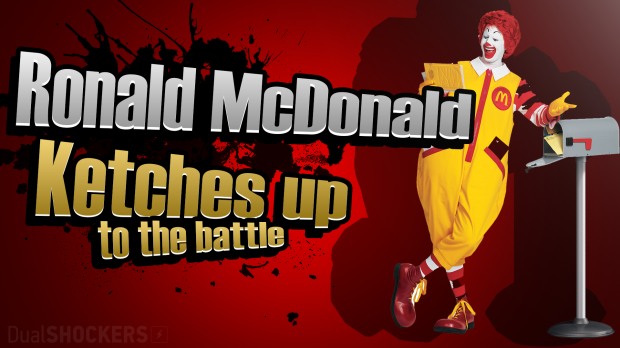 The news comes from Canada's McDonalds Twitter account, a Twitter user named Chris said "I've heard rumors about Ronald McDonald being in Smash Bros Ultimate? Could you confirm if this is true or not?." This Tweet received quite a lot of support, which then resulted in McDonald's Canada confirming that Ronald McDonald "will not be making an appearance in the new game as of right now."
McDonalds did also say that it would "be pretty neat" to be able to see "Ronald McDonald battle other characters in Smash Bros" which suggests that they wouldn't be opposed to the inclusion of Ronald in the game. Courtesy of Dualshockers for the above image of Ronald if he were to be introduced, it truly would be hilariously fun if Nintendo surprised us the McDonalds mascot as a new fighter. Many people may not like the idea, but regardless, it would be pretty funny to see Ronald duking it out on the battlefield. Super Smash Bros. Ultimate will be released exclusively on the Nintendo Switch on December 7th. For more information about Ultimate, visit the official Smash Bros. website here.
Related Tags