Intel has finally unveiled the new 9th gen Core CPUs with the first processors off the new 9th gen series rank including the Core i9-9900K, Core i7-9700K, and Core i5-9600K. All of the 9th gen CPUs will work on current 300-series motherboards, as well as the new Z390 motherboards coming soon.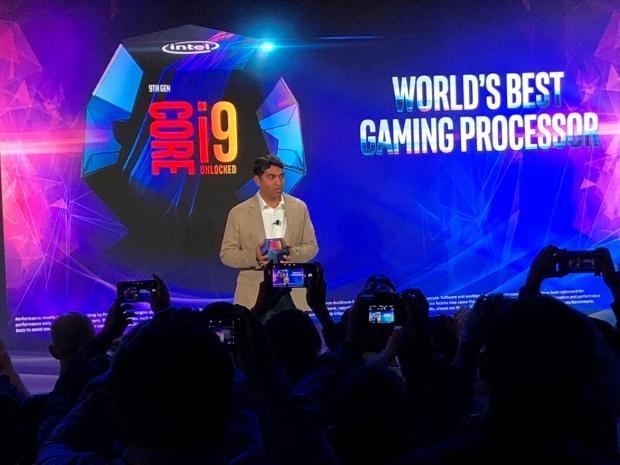 Intel is using a Solder Thermal Interface Material (STIM) on the new 9900K, something that should make some people happy with integrated USB 3.1 gen 2 and integrated Intel Wireless-AC connectivity. We also have up to 40 PCIe 3.0 lanes on tap, with Intel Optane memory and Optane SSD support a given, as well as Thunderbolt 3.
The new Core i9-9900K marks the very first time Intel has introduced an 8C/16T processor in the mainstream desktop market, with the CPU having a base clock of 3.6GHz and boost clock of 5GHz when in single/dual operation. Intel has the 4-core boost at 4.8GHz while 6/8-core CPU boost reaches 4.7GHz. Intel is keeping the TDP of the Core i9-9900K at 95W.
The highest-end Core i7 chip is the new Core i7-9700K which is an 8C/8T offering, with 12MB of cache (compared to 16MB on the 9900K) and a base CPU clock of 3.6GHz and boost of 4.9GHz for single-core mode. In dual-mode we have 4.8GHz, while 4-core mode hits 4.7GHz and 6/8-core mode it'll reach 4.6GHz. Intel has the same 95W TDP on the 9700K.
Under these two processors is the 6C/6T chip in the new Core i5-9600K, with 9MB of L3 cache and a higher base CPU clock of 3.7GHz. The 1-core CPU boost is 4.6GHz, 2-core at 4.5GHz, 4-core at 4.4GHz and 6-core at 4.3GHz. The same 95W TDP is applied to the 9600K.
As for prices, here's what we're looking at:
Intel Core i9-9900K: $488
Intel Core i7-9700K: $374
Intel Core i5-9600K: $262