Modder makes Wii out of Altoid box
Curiously strong modding skills.

Published Sun, Oct 7 2018 5:24 PM CDT
|
Updated Tue, Nov 3 2020 11:50 AM CST
In a creation that defies the laws of nature, YouTuber Shank Mods has jammed a Wii into an Altoids tin.
Described as the "worst thing ever" and aptly named the Kill Mii, Shank's console-in-a-tin is one the most interesting madhouse creations from the modding community. The Kill Mii is a portable Wii whose guts have been recompiled to fit into an Altoids box (a feat Frankenstein might be jealous of), and features a 2.5-inch composite screen with two 3DS sliders as analog sticks. Inside the curiously strong mint-box is a "heavily trimmed" Wii motherboard with re-wired components.
"In our community the joke 'can you fit into an Altoids tin?' has been a long-running joke. And only recently have we figured out that with a Wii it's actually possible," Shank said in the video.
But the device isn't really practical--it's more of an experiment to see if it'd work. And it does. But only for 10 minutes at a time. Hey, that's enough time for a quick Smash match, right?
"This is a real Wii, it's not an emulator. So the game runs at full speed," Shank said while firing up the game and doing exactly that.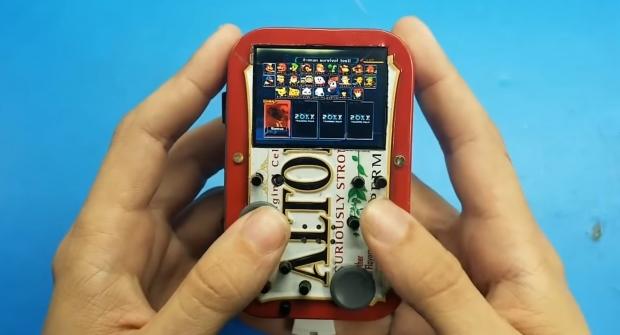 Related Tags