MyDigtialSSD ships BPX Pro and lowers prices
Lower prices lead to preorder partial refunds as next-gen NVMe products ship.
Published Sat, Sep 22 2018 4:00 PM CDT
|
Updated Tue, Nov 3 2020 11:50 AM CST
MyDigitalSSD has begun shipping the BPX Pro, the company's next generation NVMe SSD and the first high-performance model in two years. The BPX Pro is the successor to the original BPX, the product that put the company on the enthusiast map by utilizing 2-bit per cell MLC flash at the start of the TLC era. The act of shipping the BPX Pro is only half of the story today.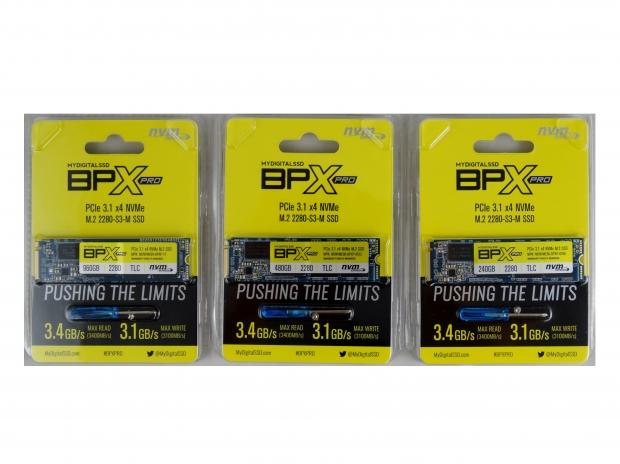 MyDigitalSSD president Matt Dawson released a statement late Thursday to announce availability and new pricing. The company sold a number of BPX Pro SSDs through preorder and that's where this story gets interesting. The new pricing is up to 25% less and all capacities saw a reduction. Those that pre ordered the BPX Pro will receive refunds to the new pricing.
"MyDigitalSSD wants the BPX Pro to be the best value for your dollar SSD on the market today PERIOD. In that thinking we are slashing our pricing up to 25% immediately and giving all backorder customers a refund for the difference.
Our new pricing is as follows:
Available now at 240GB $74.99, 480GB $129.99, 960GB at only $259.99 while the 2TB is expected in about 2-3 weeks and it will be priced at $569.99.
This pricing is only a few dollars higher than the cheapest and slowest NVMe SSD on the market while its performance and quality is arguably the best on the market. With this pricing there should be no question on what SSD makes the most since to purchase today. "
The MyDigitalSSD BPX Pro is shipping now with products available through Amazon. The BPX Pro 240GB sells for $74.99, the 480GB for $129.99 and the 1TB sells for $259.99. The company expects to begin shipping a large 2TB model in the next two to three weeks. We started our testing for review earlier today and expect to have the content ready by the end of the week.
Related Tags