Bethesda boss talks next-gen Xbox and PS5 consoles
Bethesda boss Pete Hines ponders 'how big of a shift we can expect' from next-gen consoles.

Published Tue, Sep 18 2018 11:28 PM CDT
|
Updated Tue, Nov 3 2020 11:50 AM CST
We know that AMD is working with Sony on the development of its Navi GPU architecture for the next-gen PlayStation 5 console, and while AMD has teased it's working on the 'secret sauce' for both Microsoft and Sony's new consoles, game developers have been pretty quiet.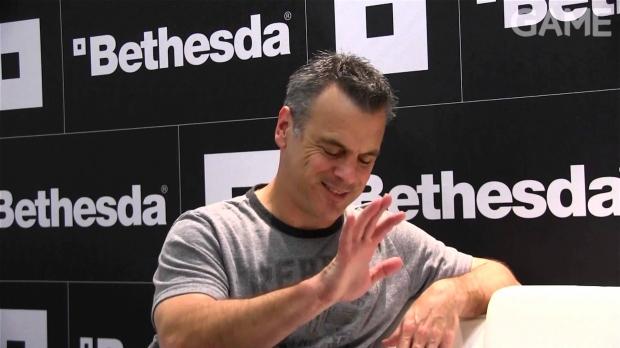 Bethesda boss Pete Hines has come out acknowledging the new consoles in an interview with The Telegraph, where he talked about how big of a shift we can expect between the current-gen consoles and the new ones, as well as the shifts between Xbox/PS2, Xbox 360/PS3, and Xbox One/PS4.
Hines said: "I am curious to see what it looks like and how it's different. I'm privy to some stuff which obviously I can't really talk about, but there is also a lot that I'm not sure on what it's going to look like. And more importantly how big a shift we can expect. I feel like there was a shift from Xbox and PS2 to Xbox 360 and PS3 that was pretty demonstrable. Because we went from the old way to HD and the HD thing was so dramatic. It was night and day".
He continues: "Then you went to Xbox One and PS4 and it wasn't like 'woah'. The graphics folks that are super into it can certainly tell, but to the average consumer they were like ok it still looks good. How much of that will change, I don't know. The rest of it doesn't matter to me because I'm not drawing art or coding or designing. What really matters is what the developers think. What do they need and what are the kind of power and features they are looking for".
I agree with these statements, as the leap between the Xbox/PS2 to the Xbox 360/PS3 was pretty big overall - at least for console gamers. Xbox One and PS4 weren't that great of a leap as they didn't ensure 1080p 60FPS as a minimum let alone 4K and while some games run at 1080p 60FPS solid, they are few and far between compared to sheer number of games that aren't 1080p 60FPS guaranteed.
Xbox One X and PS4 Pro were as good as they could be given the biggest thing holding them back: CPU performance with the oh-so-old Jaguar CPU architecture from AMD. This will all change as both consoles will have Zen-based CPU cores and Navi-based GPU cores in a new Xbox and PlayStation console unveiled in either late-2019 or 2020. This leap will be the biggest ever as we're shifting away from a CPU architecture inside of consoles that is over 10 years old itself, and bandaged and hacked together to provide the best it can given its circumstances.
The new consoles should be the largest leap yet, as we should expect 1080p 60FPS in all games at a bare minimum with 4K 30FPS on the 'High' setting on PC and I hope to see many games running native 4K 60FPS if they're optimized extremely well. 4K 60FPS will hopefully become the new 1080p 60FPS standard for next-gen consoles, as well as the first introduction of ray tracing... hopefully.
Related Tags