Now that No Man's Sky is getting a massive new game-changing update, Hello Games' Sean Murray reflects on the game's original launch and how it affected the studio and helped shape the sci-fi game's future.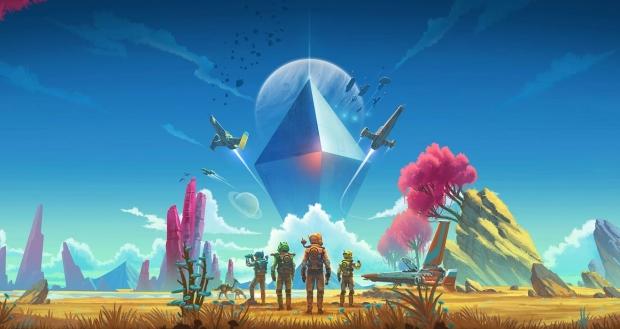 Thanks to No Man's Sky's new NEXT update the game is finally getting features that were promised nearly two years ago. Hello Games and Sean Murray caught lots of flak for many blatant untruths about the game when it released in 2016--namely the promise of multiplayer--and now the developer breaks his silence to talk about the situation. Why did he bend the truth? How was No Man's Sky affected by the controversy? Why were the features missing? Ultimately it came down to one thing: too much work and too little time.
In a recent interview with Waypoint, Murray says that one big reason the game was in hot water is that he shared too much information with the press. "So I look back on the press and interviews and stuff we shared way too much information. We shared it too early. We didn't need to do that," he said.
"When we talked to the press, we always painted it as this weird experience. We painted it as being a little bit lonely. We definitely aligned ourselves towards something like 2001: A Space Odyssey, rather than like Star Wars. And it was this kind of meditative, relaxing game."
Read Also: No Man's Sky PlayStation 4 Review: Spaced Out
Hello Games isn't a big hundreds-strong studio backed by publisher billions, but instead a smaller, more humble team that measures less than 20 people. With its procedurally-generated universe and promise of infinite potential and exploration, No Man's Sky was such a staggering undertaking that the studio had to make major compromises with its launch. But even with these trade-offs the pressure was enormous...however we have to wonder if that pressure would've been so strong if Murray hadn't revealed so much info.
"I think we did [mess up] coming up the original launch," Murray said in the interview.
"I hope people don't get too mad at us about that because I know lots people get mad about that. Hopefully people can understand, we were under just ridiculous pressure, as in from the fans, from external forces, from running out of money. We just had deadlines that we couldn't move."
Waypoint's interview is quite huge so be sure to give it a read if you're interested.
No Man's Sky's Next update rolls out in two days on July 24, 2018 on PS4 and PC, and in the upcoming retail version for Xbox One. Check below for more features included with No Man's Sky Next:
Explore the infinite universe with your friends, or bump into random travellers

As you voyage together, friends will help you stay alive, or prey on others to survive

Build bases from tiny shelters to complex colonies that you create as a team and can be seen by the community

Be a pirate or a wingman in epic space battles with friends and foes

Race exocraft across weird alien terrains and create tracks to share online