Apple's new MacBook Pro SEVERELY THROTTLES from Core i9 heat
Intel's new Core i9 suffers from heat BADLY on Apple's new MacBook Pro, throttles CPU and acts slower than previous-gen Core i7 MBP.

Published Fri, Jul 20 2018 8:33 PM CDT
|
Updated Tue, Nov 3 2020 11:51 AM CST
Apple's new MacBook Pro when configured with the Core i9 processor, maximum RAM and SSD, can come out to a huge $6700 but you'll get a free heater with it. Thanks to a new video posted on YouTube by David Lee, we now know just how ridiculously bad Apple's new Core i9-powered MacBook Pro really is.
Lee said: "This CPU is an unlocked, overclockable chip but all of that CPU potential is wasted inside this chassis -- or more so the thermal solution that's inside here". Why? Because when it's under 100% full load the cooling system Apple has used is not very good at all, and can't cool the Core i9 well enough for it to not severely throttle, threatening system performance.
The thermal throttling of the Core i9-based MBP is so bad that it performs WORSE than the 2017 model with the Core i7 processor. The new 2018 MBP with the 6C/12T processor inside took 39 minutes to render a video in Adobe Premier Pro, versus the 35 minutes of the previous-gen 2017 MBP with its 4C/8T chip.
It's not just Lee either, with multiple posts on Reddit stating they're having the same issues with their new MBP's powered with the high-end Core i9 processor.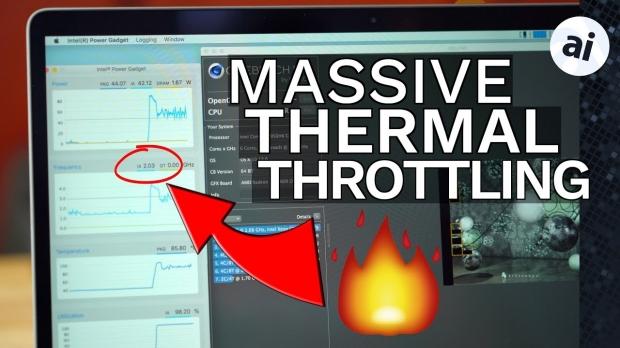 Related Tags