We all know someone in our lives that continuously drops their smartphone, and the most cringe-worthy moment of my days outside of the office (what the hell are they?!) would have to be seeing a smartphone (normally an iPhone) with a cracked display.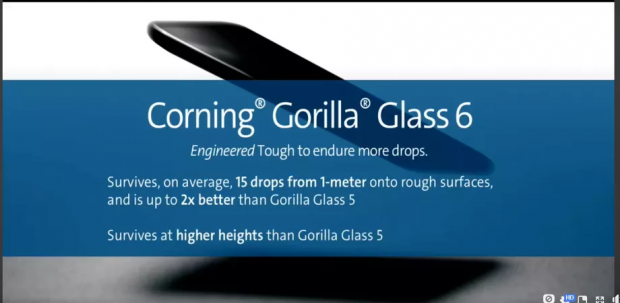 Well, Corning has just unveiled its latest Gorilla Glass 6 technology that has been made to sustain even more stress from falls, and has been specifically engineered to "survive multiple drops".
Corning claims that Gorilla Glass 6 is the best yet, and in a press release, vice president and general manager of Corning Gorilla Glass, John Bayne, said: "As consumers become more dependent on their smartphones, the opportunity for potentially damaging drops is also on the rise. Now more than ever, it's critical that the cover glass provides outstanding protection. Corning Gorilla Glass 6 improves upon Gorilla® Glass 5 by surviving drops from higher heights, but, more importantly, has been engineered to survive multiple drops".
The company says that they've developed and engineered an entirely new material to make Gorilla Glass 6 the best, with it surviving 15 drops from 1m high onto rough surfaces. This alone makes it twice as durable as Gorilla Glass 5, where under the same test conditions the previous-gen screen protection didn't survive the first drop.
Corning says it has used a new material to construct Gorilla Glass 6 which provides much higher levels of compressions versus its predecessors. Not only that, but it has been designed to work better with all-glass smartphones, which should help the current flock of beautiful-yet-fragile handsets that we use everyday.
Gorilla Glass 6 is currently "being evaluated by multiple customers" before it reaches smartphones in the coming months. I'm sure we'll see the flagship Galaxy S10 or Galaxy X, or even the upcoming Galaxy Note 9 with Corning's new Gorilla Glass 6 technology roll out in the coming months.