AMD has nailed its Zen CPU architecture that has not only been keeping gamers and megataskers happy, but the company has extended it into servers where Intel dominates with Xeon.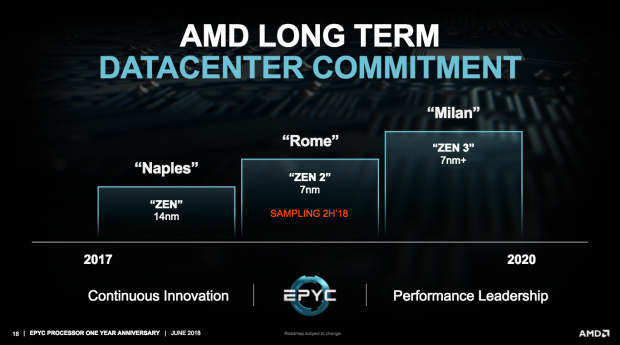 It was only recently that AMD reached the impressive 7nm node, all before Intel is stable on 10nm (which it has been trying for years now) and now EPYC is about to make the big leap to 7nm with EPYC on 7nm silicon being tested in AMD labs right now, samples headed out in 2H 2018, and its big launch in 2019 right around the corner.
AMD's first-gen EPYC processor family was named Naples, while the second-gen EPYC is called Rome, and the third-gen EPYC will be called Milan. EPYC's names come from famous locations in Italy, with Milan arriving closer to 2020 on the improved 7nm+ node with the revamped Zen 3 architecture.
We should expect AMD to unveil a truly next-gen CPU monster with up to 64C/128T of CPU power, as well as a second tier model that has 48C/96T. This should transition down into the third-gen Threadripper 3000 series, which should arrive with more than 32C/64T that AMD just unveiled with Threadripper 2. We should expect the Zen 2 series to be baked down into the Ryzen 3000 series which is codenamed Matisse, and then Picasso with the budget APU side of things.
This will be all happening in 2019, which means we're in for some exciting times with AMD in the coming 12-18 months.