AMD had a huge year in 2017 with the successful announcements and launches of both Ryzen and Ryzen Threadripper, quickly stealing sales from Intel and causing Chipzilla to react in ways we've never seen before.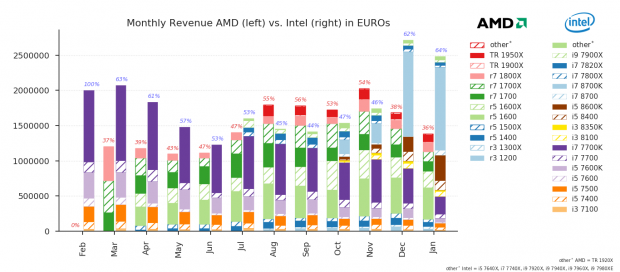 But the tide is turning and now we're seeing that as of November 2017, Intel sales are totally dominating, and that two CPUs in particular are doing major damage to AMD. Intel's Core i5-8600K and Core i7-8700K are both demolishing AMD thanks to new data from Minefactory.de.
These numbers show CPU sales from February last year, right through to January this year. You can see that for the first 9-10 months of 2017 that Intel's flagship Core i7-7700K was the CPU of choice for most enthusiasts, and that the only time that changed was in December 2017 and January 2018, when everything flicked over to the new Coffee Lake-based Core i7-8700K.
In the meantime, Ryzen Threadripper sales were alright in August and November, but have been relatively flat for many months. The mid-range Ryzen 5 1600 is doing well and has maintained the same sales numbers throughout 2017, but I really thought the Ryzen 7 1800X would be doing better, but it's really not.
AMD will be launching their new refreshed Zen CPUs in the coming months, with the Zen 2 architecture arriving in 2019. Intel has their new CPUs launching throughout this year and a next-gen load of processors in 2019 where all of these numbers will continue to change. But who will be on top?