Synology have launched the RackStation RS2818RP+, a 16-bay NAS that is able to provide up to 192TB of capacity that can be expanded to 336TB with a RX1217(RP). Basically, the RS2818RP+ is designed for large storage applications for expanding businesses that want to future-proof their technology.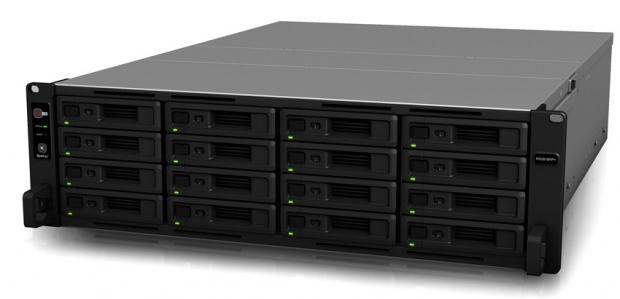 "One of the common challenges for modern small and medium-sized businesses is finding a storage solution that can store large amounts of data while having the flexibility to scale when business grows," said Jason Fan, Product Manager at Synology Inc. "RS2818RP+ offers large storage capacity with affordable TCO. It is ideal to serve as a centralized backup target, a file server or a hub-and-spoke backup target for distributed businesses."
Synology's RS2818RP+ is the first 3U RackStation NAS to appear in the Plus Series range and features an Intel Atom C3538 quad-core CPU with 4GB DDR4 non-ECC UDIMM RAM, which can also be expanded up to 64GB with four 16GB ECC UDIMMs for heavy applications. The RS2818RP+ also is equipped with four 1GbE ports Ethernet LAN ports with the option to upgrade to four 10GbE NICs, providing an impressive 1,400 MBps sequential read throughput and 26,000 random write IOPS.
As far as software is concerned, there is no real surprises here with the RS2818RP+ utilizing DiskStation Manager operating system which see's this product priced at $3702.