EA has made a fool of itself yet again, which really shouldn't come as a surprise anymore, but have no seen hundreds of millions of dollars wiped off their stock prices over the microtransaction debacle in Star Wars: Battlefront II.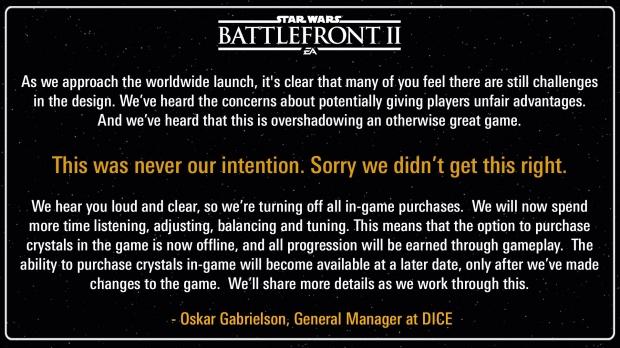 EA temporarily removed microtransactions from Battlefront II after an explosion of hate from fans, which would see some gamers forking out $2100 to fully unlock everything in the game. Well, Wall Street noticed a huge drop in EA's stock price at the end of trading on Friday, down some 2.5% which is a huge deal. CNBC reports that Bank of America Merrill Lynch are now predicting that Battlefront II sales are likely to "disappoint investors".
Analyst Justin Post wrote in a note to investors on Friday: "The escalation of EA concessions over the past month are a potential negative indicator of pre-order sales trends and overall unit confidence. In-game purchases benched the night before launch". Yeah, not good at all. He continued: "We think the strength of Ultimate Team could offset a 2-3 million unit shortfall for Battlefront, and remain comfortable with our FY18 estimates".