Xbox One X will be playable at Gamescom 2017
Microsoft will bring Xbox to Europe's Gamescom 2017 showcase in a big way.

Published Thu, Jul 13 2017 11:20 AM CDT
|
Updated Tue, Nov 3 2020 11:54 AM CST
Microsoft is bringing its new high-end 4K-ready Xbox One X console to Europe's premiere gaming conference.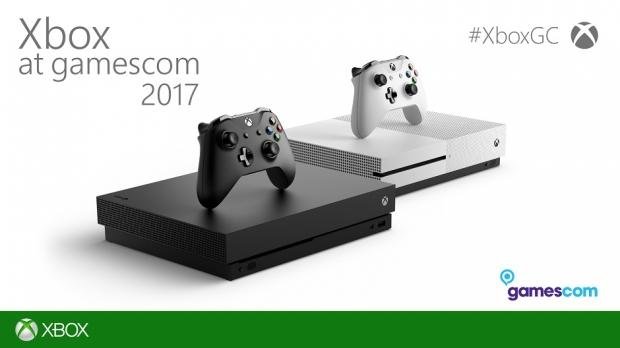 Today Xbox spokesperson Major Nelson confirmed that Microsoft will showcase its new hardware and games at Gamescom 2017 in Cologne, Germany. Over 27 games for Xbox and Windows 10 PCs will be playable at the show, including major first-party exclusives like Crackdown 3, Sea of Thieves and Forza Motorsport 7. European gamers will also be able to try out the new $499 Xbox One X in all of its native 4K glory.
The games-maker will also host an Xbox FanFest event during the show. Just like at E3 2017, the company will give away goodies and games for users who tune in via the Mixer streaming service on PC or mobiles--at E3 the company gave out copies of Rare Replay on Xbox One to Mixer viewers.
Should we expect any new announcements from Microsoft at Gamescom? It's possible, but E3 2017 was definitely the biggest event of the year. If anything Microsoft may unveil some new games on Xbox One and Windows 10 PCs, but don't expect anything major like a new hardware reveal.
Gamescom 2017 is held from Tuesday, August 22, 2017 thru Saturday, August 26, 2017 in Cologne Germany.
Check below for Microsoft's plans for the event.
Xbox @ gamescom Live
Tune in on Sunday, August 20, at 9:00pm CEST, 12:00pm PDT to a special Xbox @ gamescom live show to get latest news and announcements on Xbox One X.
The show will be hosted by Graeme Boyd (aka @AceyBongos) and Xbox Germany's Maxi Graeff (@GMaxee). They'll have news to share, games to show off, will sit down to talk with developers from fan favorite studios and play some of the year's hottest games yet to be released. There will even be a few surprises and giveaways along the way, so be sure to tune in on mixer.com or watch via the mixer app.
Age of Empires @ gamescom Live
On Monday, August 21, starting at 9:00pm CEST, 12:00pm PDT, Microsoft will celebrate the 20th anniversary of the Age of Empires franchise with a special livestream event in Cologne, alongside some of our biggest fans. The livestream will celebrate the rich history of the beloved PC game series, as well as give fans a first-look at Age of Empires: Definitive Edition, the beautifully remastered edition of this bona fide classic we announced at E3 last month. We'll be talking all things Age of Empires with some of the legendary developers who worked on the games as well as sharing some exciting news that fans will not want to miss - watch on mixer.com or through the mixer app.
We'll share more details on how you can attend in person very soon.
Xbox FanFest @ gamescom
We will again be hosting an Xbox FanFest experience for our fans who are attending gamescom 2017. FanFest will begin on Tuesday, August 22nd. We will be sharing more details on our plans soon and look forward to seeing you there!
Xbox Booth @ gamescom
When gamescom officially opens at the Koelnmesse on Tuesday, August 22, gamers in Germany will be able to get hands-on Xbox One X for the first time at the Xbox booth. We're back in Hall 8 of the Koelnmesse, North entrance, this year and you won't want to miss the opportunity to play a wide collection of the games coming to Xbox over the next 12 months. See below for the show opening times:
Tuesday, August 22 - 9:00 a.m. until 7:00 p.m. CEST (press/trade only day)
Wednesday, August 23 - 9:00 a.m. to 8:00 p.m. CEST
Thursday, August 24 - 9:00 a.m. - 8:00 p.m. CEST
Friday, August 25 - 9:00 a.m. - 8:00 p.m. CEST
Saturday, August 26 - 9:00 a.m. - 8:00 p.m. CEST
Related Tags