Need for Speed Payback may have microtransactions
EA's latest Need for Speed game may have microtransactions and in-game purchases baked in.

Published Fri, Jun 2 2017 8:38 AM CDT
|
Updated Tue, Nov 3 2020 11:55 AM CST
Update: It's possible that what EA meant by "in-game purchases" is actual purchased made by players within the game, not actual microtransactions. We've adjusted the headline and content to reflect this.
Ghost Games' new Need for Speed Payback game may have microtransactions.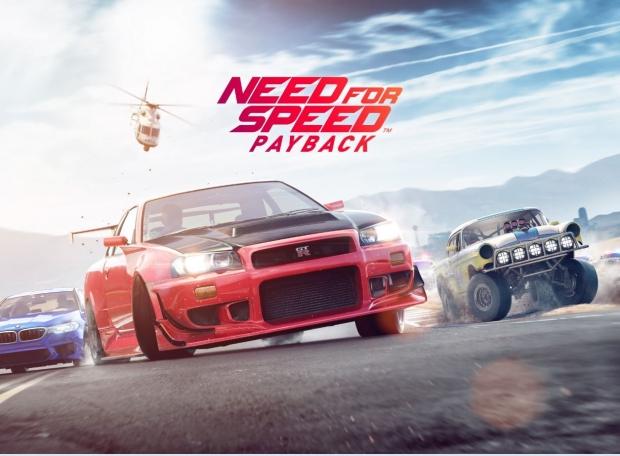 EA may monetize its latest Need for Speed game with in-game purchases, presumably to fund new free content updates from developer Ghost Games. While neither the developer nor the publisher specifically discuss monetization plans for Need for Speed Payback, the publisher hinted at microtransactions with a chart that compares the game's $59.99 standard version and the more expensive $79.99 deluxe version.
Need for Speed Payback's deluxe package includes a myriad of benefits, namely "10% off all in-game purchases," as well as extra reputation points that are likely used to buy parts, cosmetics, and other car upgrades. Need for Sped Payback will feature "open world pursuits" via online play, which allows up to eight players to race in challenges and other game modes. It's unclear what portion of the game may be monetized, but if we had to guess, we'd say specific car models and parts can be bought with real money.
"Your car is at the center of everything you do. Craft unique rides with deeper performance and visual customization than ever before," EA affirms in an official promotional quote.
Need for Speed Payback launches November 10, 2017 on PS4, Xbox One and PC.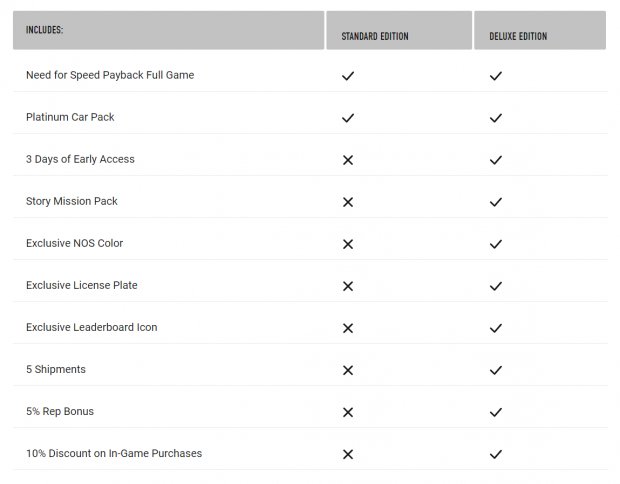 "Need for Speed returns this year to challenge what players expect from racing games," said Marcus Nilsson, Executive Producer.
"We're still delivering everything our fans love about the franchise - the deepest customization, an impressive roster of cars, intense races and open world pursuits - but with Need for Speed Payback, we're bringing together all those elements in an all new blockbuster driving experience. From the story, to the different characters you can drive as, to the varied missions, to the edge-of-your-seat moments, this is our vision for what action driving entertainment means today."
Related Tags