Tesla releases solar roof prices: Cheaper than expected
Solar Roof will come with a warranty for the lifetime of your house.
Published May 11, 2017 1:27 PM CDT
|
Updated Tue, Nov 3 2020 11:55 AM CST
1 minute & 23 seconds read time
We've heard a lot about Tesla's solar roof tiles products, but the most important piece of information was missing - the price.
The company has now announced the prices, and they are lower than expected. Consumer Reports estimates that a Solar Roof for an average size U.S. home would need to cost less than $24.50 per square foot to be cost-competitive with a regular roof. The cost of Solar Roof is less.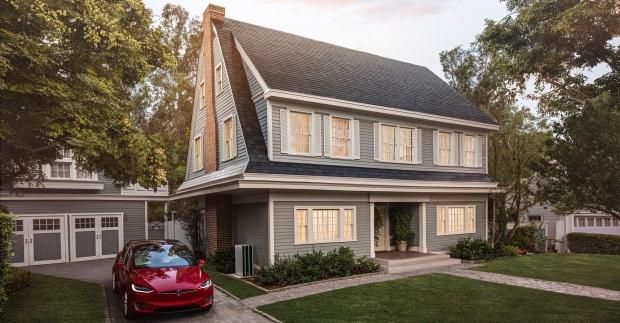 Tesla says that typical homeowner can expect to pay $21.85 per square foot for Solar Roof. The $21.85 per square foot price point was calculated for a roof where 35 percent of the tiles are solar (solar tiles cost more per square foot than non-solar tiles). A 14kWh Powerwall 2 is also an available option.
Solar Roof uses two types of tiles - solar and non-solar. Looking at the roof from street level, the tiles all look the same. Customers can select how many solar tiles they need based on their home's electricity consumption. For example, households that charge an electric vehicle every day may want more solar tiles on their roof.
Musk pointed out that some customers will be able to have 70% solar tiles on their roof, but they are expecting that in most cases it will be around 40%.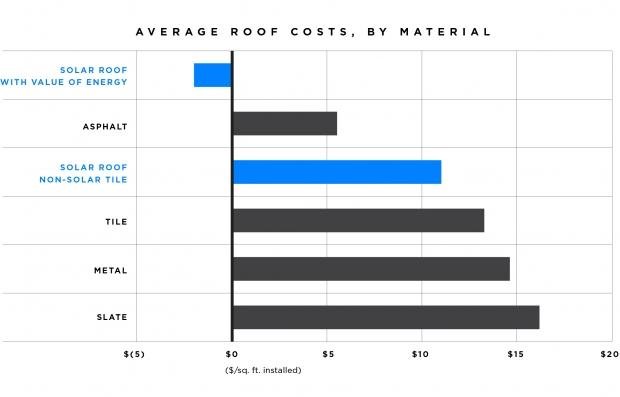 Tesla also released a Solar Roof calculator that lets homeowners estimate the upfront price of Solar Roof, as well as the value of the energy it can generate for their home.
Solar Roof will be available in a variety of designs, including Smooth and Textured (available this year) and Tuscan and Slate (available early 2018). The company pointed out that their tiles are made with tempered glass and therefore more than three times stronger than standard roofing tiles, yet half the weight.
Solar Roof will come with a warranty for the lifetime of your house.
Solar Roof is now available for orders, and even homeowners outside of US can order the tiles, but they will have to wait for installation until next year.
Related Tags