Acer reveals new Aspire V Nitro gaming notebooks
Acer's latest gaming notebooks feature powerful NVIDIA GTX 10-series GPUs and Intel Kaby Lake processors.

Published Wed, Jan 4 2017 12:11 AM CST
|
Updated Tue, Nov 3 2020 11:57 AM CST
CES 2017 - To compliment its insane $9000 21-inch dual GTX 1080 Predator 21 X notebook, Acer has rolled out two more budget-friendly gaming laptops equipped with NVIDIA GTX 10-series video cards and Intel 7th-gen Kaby Lake processors: the Aspire V Nitro and Aspire VX 15.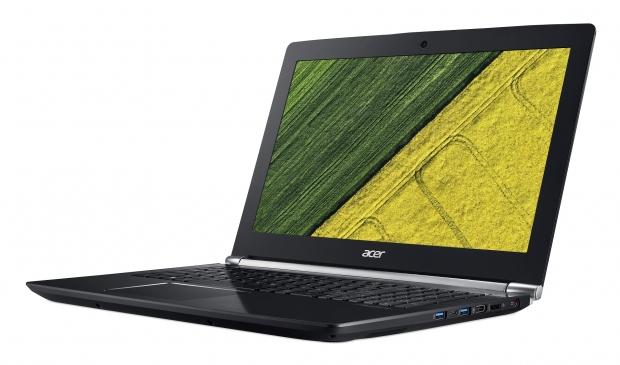 The Acer Aspire V Nitro gaming notebooks come in two flavors: the Aspire V Nitro 15, which sports a 15.6-inch IPS display, and the Aspire V Nitro 17, which rocks a 17.3-inch IPS panel. Both models can be upgraded to 4K displays as well. The Aspire V Nitro 17 can also be upgraded to include Tobii eye-tracking technology.
As far as specs go, Acer allows buyers to customize their build to meet certain needs and price points, with hardware specs rocking up to an NVIDIA GeForce GTX 1060 GPU with 6GB of GDDR5 VRAM, an Intel 7th generation Kaby Lake i7-7700HQ CPU, 16GB of dual-channel DDR4 system memory, 512GB PCIe Gen 3 at 8Gbps and 512GB NVMe at 6Gbps SSD storage, and 2TB 2.5-inch 5400 RPM HDD storage options.
The Aspire VX 15 gaming notebook features up to an NVIDIA GeForce GTX 1050 Ti video card and an Intel Core i7-7700HQ CPU, and start at $799 with availability planned for later this month.
Acer's Aspire V Nitro notebooks start at $1199 and will ship in February.
Check below for a breakdown of each product, and full specifications.
Aspire V Nitro Notebook
The updated Acer Aspire V Nitro offers superior performance in a sleek form factor. It is ideal for graphics heavy content creation/editing or gaming. Depending on model, It includes the NVIDIA GeForce GTX 1060 or GTX 1050 Ti GPU, a 7th Gen Intel Core I processor (KBL H series) and up to 16 GB of DDR4 system memory. An optional 4K (3840x2160) ultra HD display is also available.
Price: Starting at $1199.
Availability: February
Aspire VX 15 Notebook
The all new Aspire VX 15 gaming notebook delivers a powerful punch thanks to its aggressive gaming design, extreme cooling capabilities, NVIDIA GeForce GTX 1050/1050 Ti GPU and the latest 7th Gen Intel Core i5/i7 processors (KBL H series).
Price: Starting at $799
Availability: January
Acer Aspire V Nitro Notebook Specfications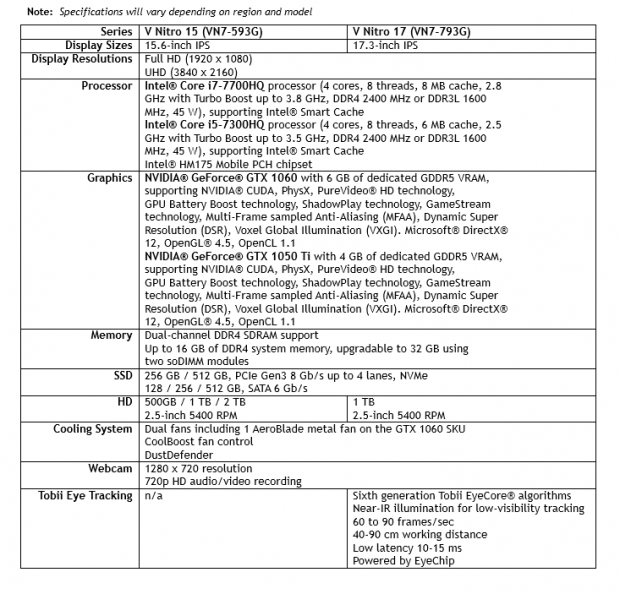 Related Tags