Sony's PlayStation VR is surprisingly easy to repair
Check out the PSVR's guts and see how it stacks up against other VR headsets in terms of repairability.

Published Fri, Oct 14 2016 10:33 AM CDT
|
Updated Tue, Nov 3 2020 11:58 AM CST
The gadget surgeons over at iFixit have wasted no time in delving in the guts of Sony's new PlayStation VR headset, slicing open every little nook and cranny to show off its high-tech innards.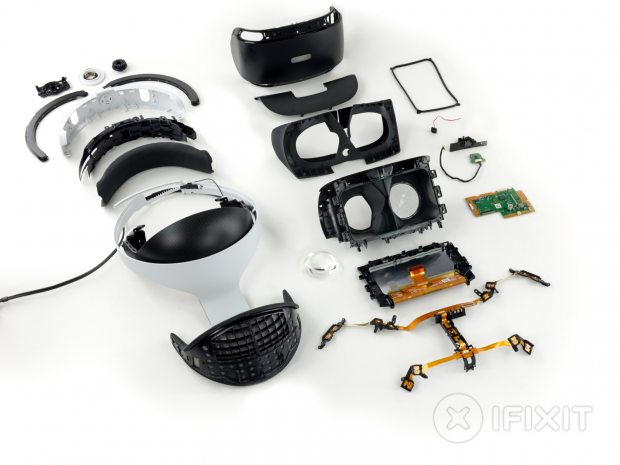 Starting at $399, Sony's PSVR has successfully ushered accessible virtual reality hardware in the mainstream market. Now that the headset is out in the wild, it's time to crack it open and see how its internals fare, and how easy it is to repair.
According to iFixit's official PSVR teardown, headset repairs are actually pretty straightforward: the PSVR received a lofty 8 out of 10 in the ease of repairability scale.
For comparison's sake, the Oculus Rift CV1 scored a 7 out of 10 on the scale, whereas the HTC Vive scored an equal 8 out of 10.
The teardown is filled to the brim with interesting tidbits on the PSVR, including a close-up look at its highly-touted 120Hz True HD AMOLED display that fairly matches those found in Samsung's high-end flagship phones.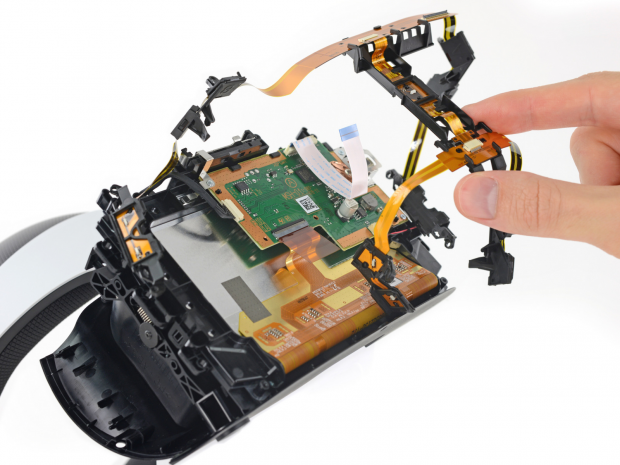 iFixit also pops open the PSVR's accessory "Processing Unit" box that splits the images to and from the PS4, headset, and HDTV. The PU features a circuitboard fastened with a Marvell DE3214-B0 Armada 1500 Pro 4K SoC, four Samsung K4B2G1646Q-BCMA 256 MB DDR3 SDRAM modules for a total of 1GB of RAM, and even a 4GB eMMC SSD.
Read Also:Sony is already selling PlayStation VR at a profit
iFixit notes that while the headset is "thoughtfully constructed and fairly straightforward to disassemble," the headset is still a complex bit of kit and you'll need an explicit guide to get everything to fit back together perfectly. Here are the highlights, including the full teardown video below:
Pros
Thoughtfully constructed and fairly straightforward to disassemble.

Many pieces, such as the cushions and light shield, snap in place with no fussy fasteners or adhesive.

Standard JIS J0 screws are used throughout. You can take it apart with a single driver that's likely already in your electronics toolkit (Phillips drivers work for JIS in a pinch).
Neutral
Adhesive is mild, used sparingly, and mostly easy to remove. However, the lenses are firmly glued in place.
Cons
Complicated piece of hardware with a lot of extra trim pieces that would be difficult to reassemble without guides.
PlayStation VR Specs at a glance

5.7-inch OLED display with true R, G and B sub pixels per pixel

1080p resolution

120Hz refresh rate

Low latency under 18ms

Positional tracking with 9 LEDs

360 degree head-tracking

3D audio

100-degree field of view

Accelerometer and gyroscope for motion sensing
Related Tags