With a newly focused Microsoft aiming for services and devices and beyond successful brands in Windows and Xbox, the Surface range has been quickly making a name for itself against Apple in many ways.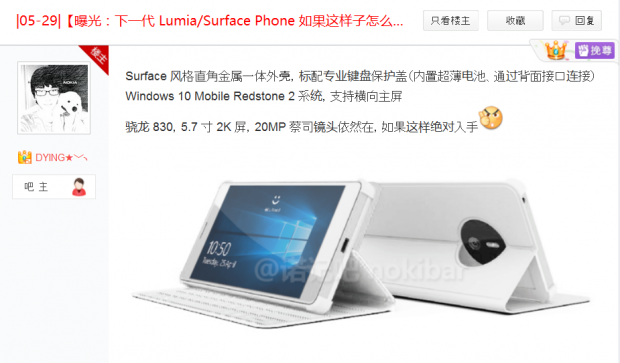 Microsoft tried its hand at the mobile market with Nokia, but it didn't work and it was a massive acquisition that saw Nokia virtually dissolve into irrelevance when compared with how Samsung and Apple have completely dominated and made monopolies of the mobile market, something Nokia was once the ruler of.
With rumors of Surface Phone, the company could be working on its own smartphone to compete against Samsung and Apple, teaming up with Qualcomm on the processor side of things. More information has surfaced on Microsoft's purported smartphone, with a post on Baidu teasing it runs Windows 10 Mobile Redstone 2, packs the Snapdragon 830 processor, a 5.7-inch 2K display, and a 20MP camera.
The information was posted in May, so many of these specs could have easily changed, and might do so again before its launch in 2017. Microsoft could do well in the smartphone market as it is beginning to get stale on the iPhone side, while Samsung deals with the massive issues stemming from its battery issues on the Galaxy Note 7, losing nearly $40 billion in stock in just a few days.