The classic Rock Band game has recently been under pressure, with complaints from players regarding the quality of artists and songs chosen for the game's set list. Developer Harmonix, in attempts to fix the issues, have announced a new Rock Band 4 DLC, titled: Ozzfest meets Knotfest 2016 Pack.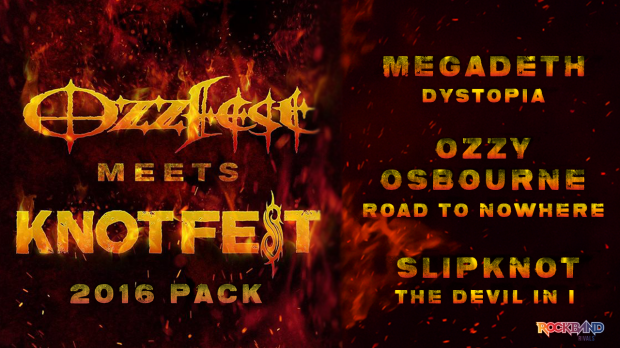 The Ozzy Osbourne, Slipknot and Megadeth themed expansion pack, provides players with more difficult but classic, rock songs from all three bands. It can purchased for $5.49 as a pack, or $1.99 if purchased individually via the Harmonix website.
The expansion contains songs "Dystopia" by Megadeth, "Road to Nowhere" by Ozzy Osbourne, and "The Devil In I" by Slipknot. It will be avaliable for PS4 and Xbox One and are now available on the Xbox One and PS4.
The extra songs are designed to challenge players and can be seen as to the difficulty level via the provided Rock Band YouTube video:
The Ozzfest meets Knotfest, is set to take place in real life on September 24 and 25, at the San Manuel Amphitheater & Festival Grounds. Hence basing the DLC pack on/and around this event.