Razer has just announced its new Blade and Blade Stealth gaming notebooks, with the new laptops being outfitted with Intel's next-gen Kaby Lake CPU, as well as NVIDIA's new Pascal-based GeForce GTX 1060 graphics card.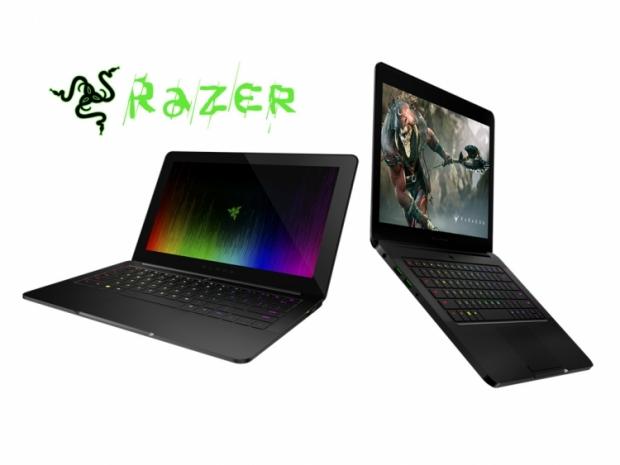 The new 14-inch Blade notebook doesn't look any different to the current (or is that now last-gen) Blade, which rocks a Core i7-6700HQ and 16GB of DDR4 RAM. Inside of the new Blade, Razer has opted for the GeForce GTX 1060, which is VR-ready.
Razer provides two display options for the Blade, with the original IGZO-based 3200x1800 display on offer, but we also have a IPS-based 1920x1080 offer, too. You can option some higher-end hardware for the Blade, with up to 256/512/1TB PCIe-based M.2 storage on offer.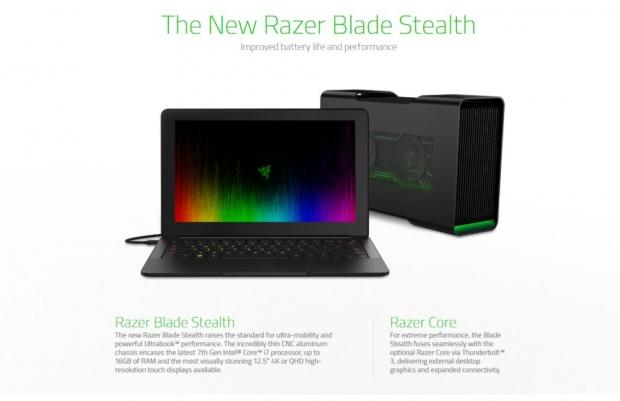 It's the new Razer Blade Stealth that has me impressed, with some more CPU options on offer in the Kaby Lake-based Core i7-7500U, replacing the older Core i7-6500U. Intel's new Core i7-7500U is a dual-core CPU with Hyper-Threading, so we have 4 threads at 2.7GHz base, or 3.5GHz Turbo clock. The same Intel HD Graphics 620 are included.
Razer's Blade Stealth also includes two display options for its 12.5-inch panel, with IGZO Touch display options in both 3840x2160 (4K) with 100% of the Adobe RGB color space, while the 2560x1440 option offers 70% of the Adobe RGB color space.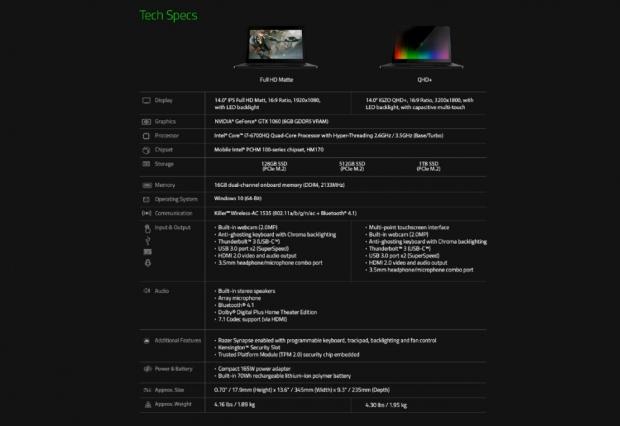 The new Blade Stealth is capable of taking 16GB of RAM and up to 1TB of storage for the 4K model, while the 1440p model can handle 128/256/512GB storage options.
Razer has also provided a bigger and better battery for the new Blade Stealth, raising it from 45kWh to a much bigger 53.6kWh battery.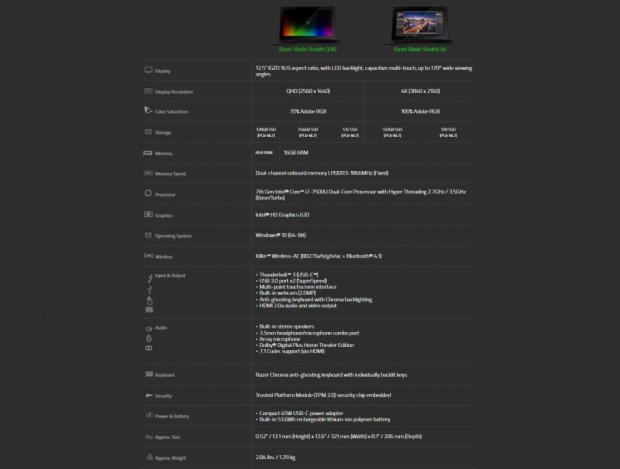 Both of the new gaming laptops rock Thunderbolt 3 connectivity, using USB Type-C to connect through to Razer's external graphics card solution: Razer Core. The new Blade is equipped with a GTX 1060, so you should be fine for most things there, but if you wanted to power an external LCD or TV, then you'll want the additional GPU power. If you're using the Blade Stealth, the external GPU could come in handy very quickly, as it only rocks integrated graphics.
Now, pricing... Razer has it's new Blade Stealth starting at $999, while the higher-end Blade starts at $1799. Both models are available right now.