Computex 2016 - Corsair has just announced a custom-built kit of RAM, with their new Dominator Platinum ROG Edition kit (CMD16GX4M4B3200C16-ROG) featuring 4 x DDR4 modules for quad-channel goodness, at up to 3200MHz with 16-18-18-36 timings, at 1.35V.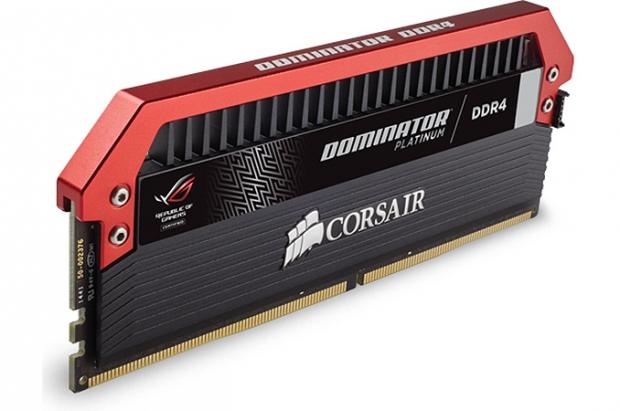 The new modules are built for Intel's new Skylake-S processors, for the Intel Z170 chipset, and more specifically, ASUS ROG-based motherboards. When installed into a Z170-based ASUS ROG motherboard, the Corsair Dominator Platinum ROG Edition RAM kicks up its frequency to 3333MHz.
Corsair has used aluminum heatspreaders and customizable LED lighting on the new DDR4 kit, with a slick black/red style to match the look of ASUS ROG motherboards. Corsair is setting the price at $224.99 without taxes in the US, which is much more expensive than competing kits from other manufacturers, and even alternative Corsair kits.
As for motherboards, here's a list of ASUS motherboards that the Corsair Dominator Platinum ROG Edition RAM works with:
ROG Maximus VIII Formula

Maximus VIII Hero

ROG Maximus VIII Extreme/Assembly

ROG Maximus VIII Hero Alpha

Maximus VIII Impact

Maximus VIII Extreme

Maximus VIII Ranger

Maximus VIII Gene