William Shatner lends his famous voice to Elite: Dangerous
William Shatner has contributed his voice to the wide galaxy of Elite: Dangerous, with over 1300 lines you'll be able to install in a voice pack soon.
Published Sat, Mar 26 2016 1:59 PM CDT
|
Updated Tue, Nov 3 2020 12:00 PM CST
William Shatner is an icon in science fiction, not the least because of his role in one of the largest franchises in Sci-Fi history. He's now lent his voice talent to the developers at Elite: Dangerous for a high-quality voice pack that'll replace the already gentle and rather marvelous voice inside the game. Now we can hear Captain Kirk himself narrate our journey, courtesy of HCS voicepacks.
Orion is more than just replacing the in-game ship voice with his commanding presence, but they've also created an in-game tour, of sorts, which is narrated by William Shatner while you go to certain waypoints throughout the galaxy. He's contributed over 1300 different phrases to replace the original voice. This voice pack is officially endorsed by Frontier Developments and a completely legal and authorized mod to put into your game. William Shatner has signed a few posters and his new book that, if you pre-order by April 8th, you'll be entered into a drawing to win. His new book Leonard is part of the prize pool and is a tribute to his co-star, colleague and friend Leonard Nimoy. Check it out, it's a fascinating voice-over that adds a new element, if not terribly exciting, that's quite unique to the game. If anything it can add something from your favorite Sci-Fi franchise to it. When Leonard Nimoy himself narrated portions of Star Trek Online it was a wonderful surprise as his voice lives on in ways that otherwise wouldn't be possible.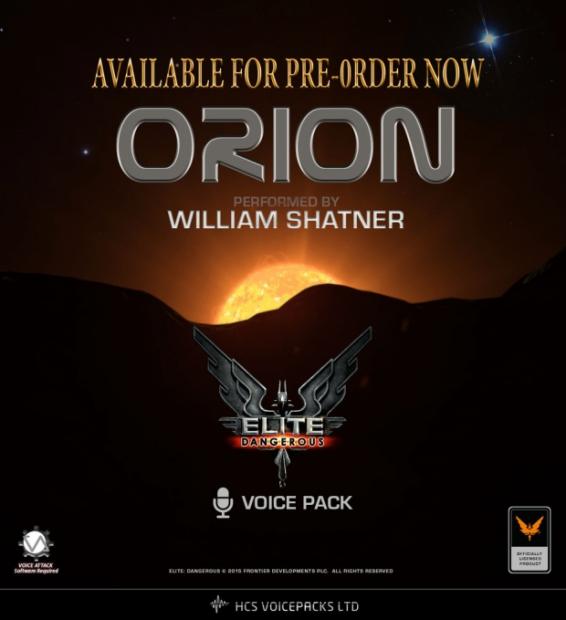 Related Tags