Hands-on with AORUS at CES 2016
The new AORUS laptops from GIGABYTE are looking especially good this year with dGPU's all around and fantastic screens to boot.
Published Jan 10, 2016 9:54 PM CST
|
Updated Tue, Nov 3 2020 12:02 PM CST
2 minutes & 49 seconds read time
CES 2016 - You had better watch out for media! We were invited to a secret backroom at CES 2016 where a separate subdivision of GIGABYTE's notebook business unit gave us a tour of their latest technology. Although AORUS is still in its infancy, they have made huge waves through the gaming notebook community in the past year.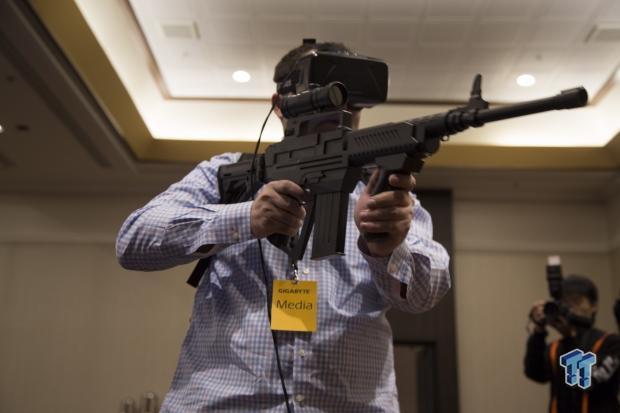 Backed by one of the largest manufacturers of motherboards, VGAs, and notebooks, AORUS takes the experience of a large technology corporation and freedom of a separate division to push out some of the best gaming notebook offerings.
Their focus is to design and produce the best gaming notebooks on the market, and we saw nothing mediocre. Every AORUS notebook we saw had a dedicated NVIDIA GPU (or more), and many of the technologies they offered were unique and on the bleeding edge of VR and gaming.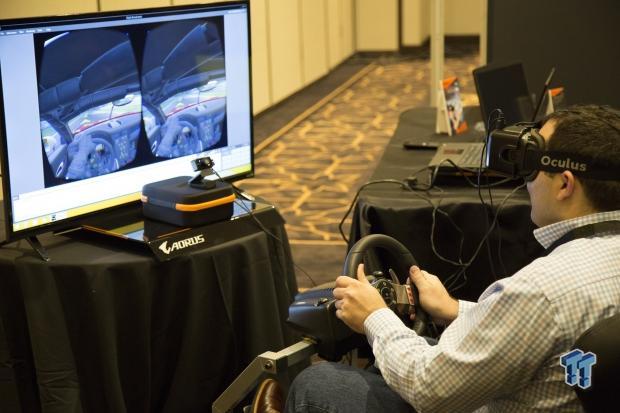 When we first walked in, I was asked to try out a racing game powered by one of their most powerful gaming notebooks driving a VR headset. The AORUS X7 DT powered the setup, and it actually uses the desktop GTX 980 instead of the mobile 980M, making it quite unique compared to competitor products. In this demo, it was powering an Oculus Rift headset (DK2), which was incredible. There is no lag, and I have to admit it was impressive that a notebook was driving the experience.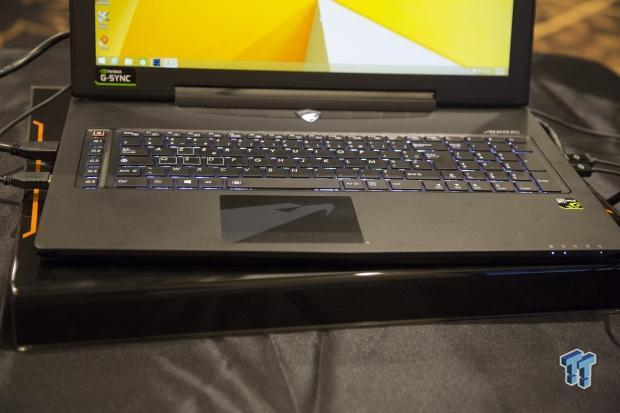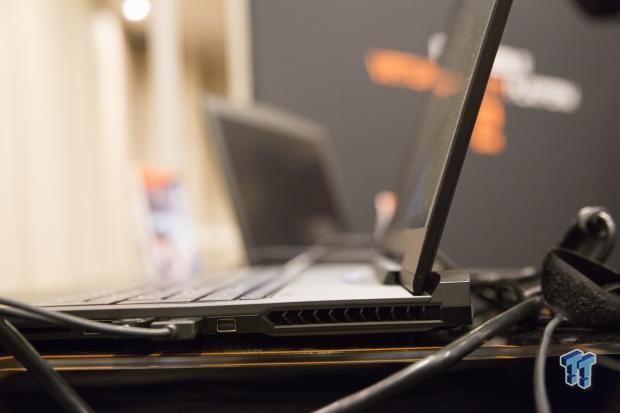 AORUS further adds the ability to use the new Skylake i7-6820HK, which is Intel's first-ever overclockable mobile CPU. All of this is air-cooled and powers a 17.3" monitor with G-Sync technology. The X7 DT is only 1" thick, so you can actually carry it around.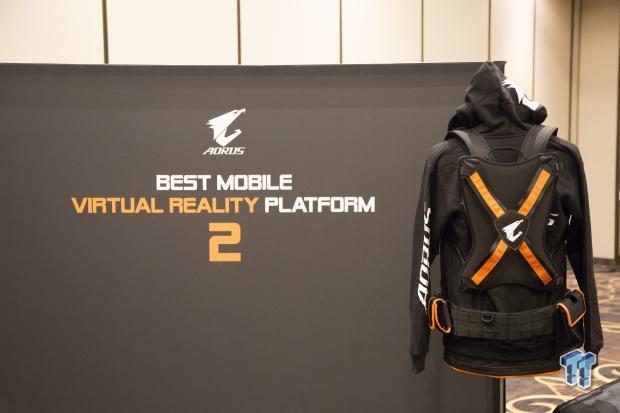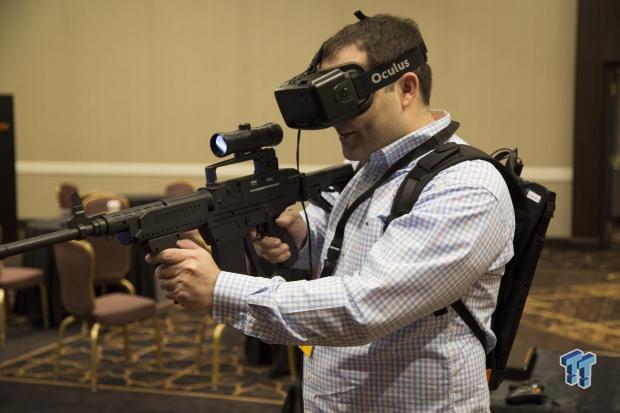 After the racing demo, we moved to an FPS game; Star Wars Battlefront. AORUS has designed a unique notebook belt that will secure the notebook and any accessories to your body so you can play FPS games without dangling wires. The issue with current VR implementations is that they are not wireless, the power requirements and wired accessories make wireless gaming difficult. In the future, AORUS will provide more gaming and notebook accessories that will fit belt, one thing I look forward too is an expandable battery pack so that runtime is extended a bit. Right now you can play a little over half an hour on one full charge since the graphics power draw is quite high for immersed high-quality VR gaming.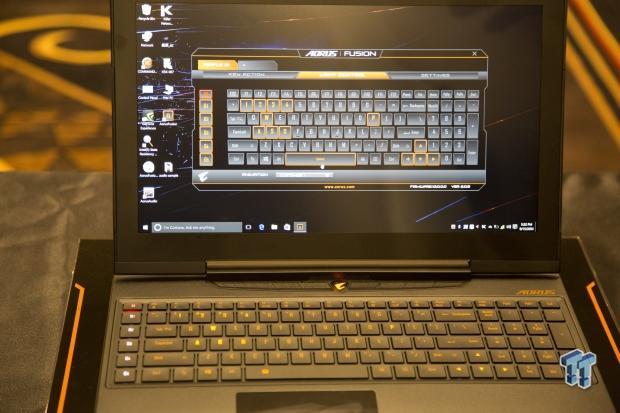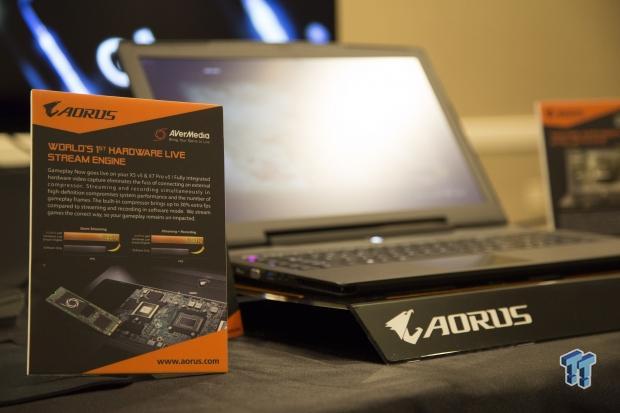 AUROS also showed off their new FUSION application that allows for keyboard customization. The application allows for individual key lighting and individual macro key assignment. AORUS was also showing off the world's first hardware based live stream engine. Since streaming gameplay has become so widespread, manufacturers have started work on new dedicated hardware based streaming capabilities. Using hardware based streaming devices removes extra load from the main system and the 100 series chipset allows for the addition of extra hardware in one of multiple M.2 slots. AORUS is offering an AVerMedia M.2 streaming engine on their X5 v5 and X7 Pro v5 gaming notebooks.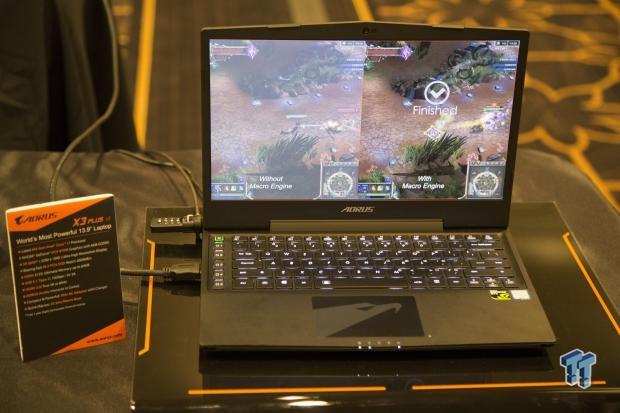 AORUS's lineup is not limited to larger 15 and 17" models, in fact, AORUS has the world's most powerful 13.9" gaming notebook; the X3 Plus v5. Offering the latest Skylake 6th Gen core i7 with GTX 970M graphics and 6GB of GDDR5 the notebook is equipped to handle the latest games. The X3 Plus v5 has a 3K QHD display, an M.2 SSD with 2000Mb/s speeds (assuming sequential read), USB 3.1 Type-C, and HDMI 2.0 (supports 4K output). The motherboard also carries 25 sets of Macro keys, and a demo was on the display showing the difference between macro and non-macro gameplay.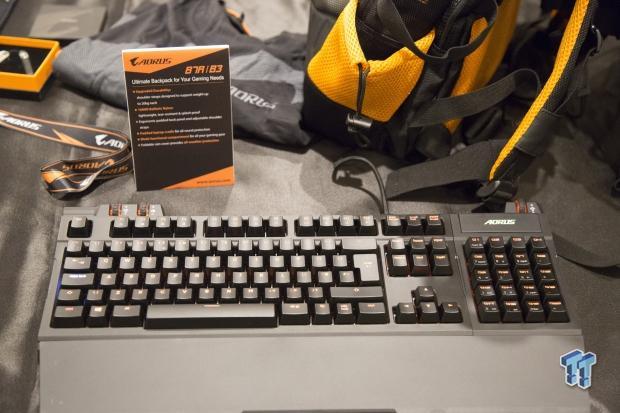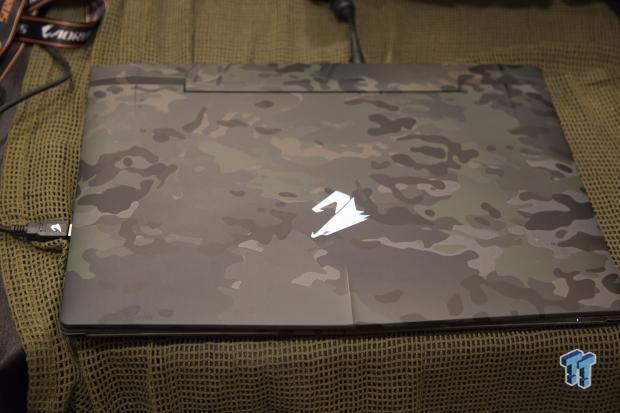 While AORUS is focused on gaming notebooks, they also offer a neat keyboard with magnetic expansion. The number pad (with combined macro keys) and wrist support attach to the main keyboard through magnets, so you can easily switch around the configuration. For those who want something special, AORUS has a limited edition camouflage based metal body notebook. Each camouflage pattern is unique to each notebook, and the serial number is laser etched into the bottom of the notebook.
Related Tags