World's smallest temperature chip draws power from radio waves
An incredible new temperature chip draws its power from radio waves being broadcasted from Wi-Fi networks.

Published Wed, Dec 9 2015 2:35 AM CST
|
Updated Tue, Nov 3 2020 12:02 PM CST
An impressive new temperature sensor chip has been unveiled by researchers at the Eindhoven University of Technology in Eindhoven, Netherlands. They have created the world's smallest temperature sensor chip, which has a damn impressive trick up its incredibly small sleeve.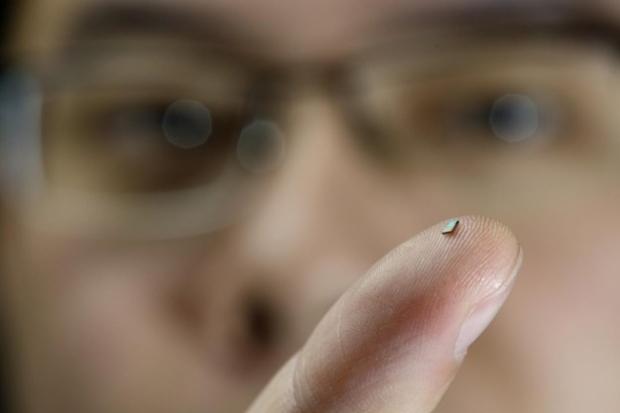 The new temperature sensor chip draws its power from radio waves being broadcasted by the same Wi-Fi network it is communicating with, which means the chip won't require a battery, nor will it ever have to be charged. For the Internet of Things (IoT) market, and electronics in general, this is going to be quite the breakthrough.
Project PREMISS is the current name of it, with research Dr. Hao Gao leading the project. Project PREMISS is a new type of sensor that is as light as a grain of sand and is only 2mm square, which makes it the world's smallest temperature sensor. The chip draws the required power from radio waves, but it also communicates data over the same waves, so it doesn't need a physical connection to send temperature data to another device.
According to a post on Eindhoven University of Technology's blog: "The sensor contains an antenna that captures the energy from the router. The sensor stores that energy and, once there is enough, the sensor switches on, measures the temperature and sends a signal to the router. This signal has a slightly distinctive frequency, depending on the temperature measured. The router can deduce the temperature from this distinctive frequency".
The new sensor isn't ready for the mainstream market just yet, with PREMISS only capable of transmitting data wirelessly at a distance of only an inch. Gao says that the distance of communication will be extended to more than three feet within the next year, while the end goal of the temperature sensor seeing it transmit data over distances larger than 16 feet.
The researchers say that the technology used in PREMISS could be used to create other sensors that would measure things like movement, light, humidity and much more. Eindhoven University of Technology professor Peter Baltus says that the technology could eventually be used to create a network of sensors that don't require batteries, and they could be "painted" onto walls inside a building using latex. Impressive stuff!
Related Tags