Battle the Five Armies to win yourself a 'Hobbit' Blu-ray boxset!
The epic conclusion to 'The Hobbit' comes to Blu-ray in an all-new extended cut and you could take one home for free.
Published Nov 16, 2015 12:29 AM CST
|
Updated Tue, Nov 3 2020 12:03 PM CST
1 minute & 14 seconds read time
To celebrate this week's release of the 'The Hobbit: The Battle of the Five Armies - Extended Cut' boxset on Blu-ray and DVD, we have ten Blu-ray prize packs to give away, thanks to our friends at Roadshow Entertainment.
'The Hobbit: The Battle of the Five Armies' brings to an epic conclusion the adventures of Bilbo Baggins (Martin Freeman), Thorin Oakenshield (Richard Armitage) and the Company of Dwarves. The Dwarves of Erebor have reclaimed the vast wealth of their homeland, but now must face the consequences of having unleashed the terrifying Dragon, Smaug, upon the defenseless men, women and children of Lake-town. As he succumbs to dragon-sickness, the King Under the Mountain, Thorin Oakenshield, sacrifices friendship and honor in his search for the legendary Arkenstone. Unable to help Thorin see reason, Bilbo is driven to make a desperate and dangerous choice, not knowing that even greater perils lie ahead. An ancient enemy has returned to Middle-earth. Sauron, the Dark Lord, has sent forth legions of Orcs in a stealth attack upon the Lonely Mountain. As darkness converges on their escalating conflict, the races of Dwarves, Elves and Men must decide-unite or be destroyed. Bilbo finds himself fighting for his life and the lives of his friends as five great armies go to war.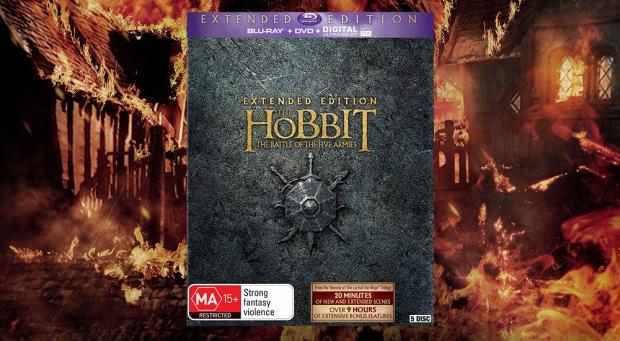 To go into the running to win a prize, simply correctly answer the following question:
The original novel 'The Hobbit' novel was released in what year?
To enter, simply 'like' this post and share via Facebook or Twitter and send your answers, along with your postal address to ben at TweakTown dot com before the competition closes on November 20th.
'The Hobbit: The Battle of the Five Armies - Extended Cut' is available on Blu-ray HD and DVD from Australian retailers starting November 18.
Related Tags