Unreal Engine 4 gets VR SLI support via NVIDIA GameWorks VR
Team Green wins over Epic Games with their enhanced VR software suite, which includes VR SLI and other optimized API's.

Published Tue, Nov 10 2015 4:47 PM CST
|
Updated Tue, Nov 3 2020 12:03 PM CST
At this year's VRX 2015 virtual reality conference, Epic Games announced it's teaming up with NVIDIA to fully support Team Green's new GameWorks VR suite. This means that Unreal Engine 4 developers will get a huge set of new tools to work with, including tapping the performance boon that is VR SLI. One of the biggest parts of this news, is that Multi-Res Shading can boost rendering speeds by up to 50%, which is GeForce specific, something AMD can't do right now.
NVIDIA's GameWorks VR toolset is a new suite made up of libraries, API's and drivers aimed at optimizing VR performance. GameWorks VR is specifically designed to streamline the interactions between NVIDIA GPU's and VR hardware like the Oculus Rift in an effort to increase frame rates and push down latency.
GameWorks VR offers a number of beneficial upgrades to both game and hardware developers like Direct Mode, which improves headset compatibility, and Multi-Res Shading, which uses Maxwell's multi-projection architecture to improve render. Team Green's VR suite also supports VR SLI, which leverages the power of multiple NVIDIA GeForce GTX GPU's to "dramatically accelerate stereo rendering" by assigning a GPU to each eye. VR SLI also supports builds with more than two GeForce GTX GPU's as the raw graphical power is scaled to the headset using the GPU affinity API.
You can see the effects of VR SLI in the video below. Essentially the software helps streamline frame time--and in one instance cuts it in half--thus significantly reducing latency. Low-latency is incredibly important to keep the illusion VR from completely falling apart, as are high frame rates.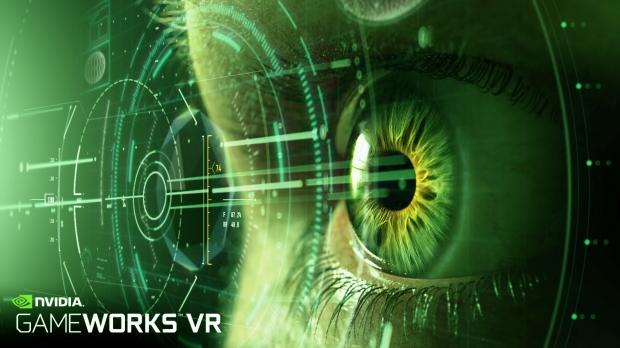 NVIDIA's GameWorks VR looks like a big game changer for virtual reality, and it will be interesting to see what other engines pledge their support to the suite. AMD has a similar VR-ready solution called LiquidVR that essentially aims to do the same things as GameWorks VR, with CrossFire support and reduced latency/boosted frame rates.
Check out the video below for more information on LiquidVR and the general basics on how the affinity multi-GPU system powers both VR toolsets.
Related Tags