Metal Gear Solid V mod unlocks all hidden and DLC items
A quick and easy mod unlocks all the templates for secret and hidden items in Metal Gear Solid V.

Published Thu, Sep 17 2015 10:44 AM CDT
|
Updated Tue, Nov 3 2020 12:03 PM CST
A newly released mod unlocks every single researchable item for Metal Gear Solid V: The Phantom Pain, including extra hidden characters like Raiden and gear earned from console-exclusive DLC.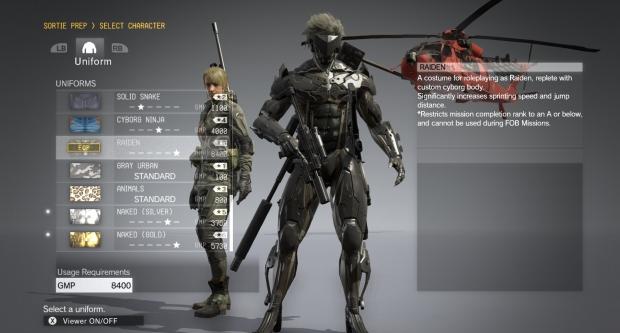 The mod goes by the nondescript "DLC and All Item Unlocker" and unlocks the game's full suite of secret items that are normally unlocked through progression. That being said the mod just gives you shortcut access to the templates and doesn't instantly grant you the items themselves--you still have to have the right materials, GMP and leveled R&D prerequisites in order to make and equip the gear.
If you don't have Ground Zeroes this mod will give you access to the content unlocked when transferring a save file, including Snake's golden bionic arm and the retro Snake outfit earned from the PlayStation-exclusive Deja Vu mission. Other goodies include the Raiden suit, Quiet's Naked Gold and Silver outfits, the Cyborg suit and a plethora of visual staples that nod to the franchise's storied history.
Installing the mod is quite easy. Before you start you want to back-up your original data1.dat save file which can be found in the Steam -> steamapps -> common -> MGS_TPP -> master file directory. Then just download the 100MB .dat save file and simply extract the .RAR file into the master file directory and overwrite your data file.
Related Tags