iPhone 6S features 2GB of RAM, while the new iPad Pro has 4GB
Apple is including 2GB of RAM inside of the new iPhone 6S, while the 12.9-inch iPad Pro sports 4GB.

Published Mon, Sep 14 2015 5:32 AM CDT
|
Updated Tue, Nov 3 2020 12:04 PM CST
Now that the new iPhone 6S, iPhone 6S Plus and iPad Pro have all been unveiled, we're hearing more details about the RAM that they will all come with. Because you know, Apple doesn't like to give out the details on the RAM inside of its smartphones and tablets at whim.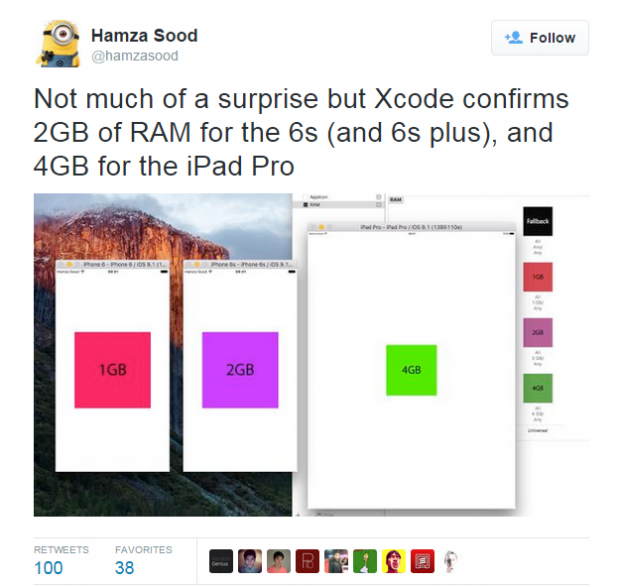 The new iPhone 6S and iPhone 6S Plus will both feature 2GB of RAM, while the 12.9-inch iPad Pro will include 4GB of RAM. The news is coming from the Twitter account of iOS developer Hamza Sood, where he said: "Not much of a surprise but Xcode confirms 2GB of RAM for the 6s (and 6s plus), and 4GB for the iPad Pro".
With the iPad Pro being able to edit three 4K video streams at once, it would really need to have 4GB of RAM, which Apple seems to have crammed into the 12.9-inch slate. When it comes to the new iPhones, they have 2GB of RAM versus the 1GB of RAM in the iPhone 6 and iPhone 6 Plus. But, the new iPhones reportedly have two dual-core processors at different clock speeds, which will provide some much needed performance.
Related Tags