Intel teases 100TB or larger SSDs for 2020
Intel begins teasing 30TB SSDs for 2018, and huge 100TB+ SSDs by 2020.

Published Mon, Aug 31 2015 9:40 PM CDT
|
Updated Tue, Nov 3 2020 12:04 PM CST
I feel quite privileged to have all of my systems powered by SSDs, with the biggest ones being 480GB. But those 1TB SSDs are just huge, and by the looks of things, they're only going to get bigger, and very quick.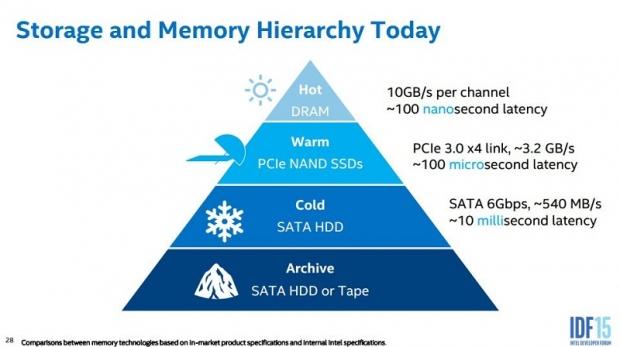 Intel is working with Micron in their joint collaboration in IMFT, where the two giants will be making some sweet NAND together. With that in mind, Intel is now projecting to have 30TB SSDs by 2018, and passing 100TB by the end of the decade. Hitting 100TB+ SSDs isn't going to be easy, with Intel expecting datacenters and the enterprise markets to move over to flash-based storage quicker and quicker.
As it stands, flash-based storage is used to cache "hot" data, but Intel wants to see SSDs used for much more than that in the enterprise. The chipmaker sees NVMe-based solutions taking over, thanks to their reduced overheads and increased speeds and lowered latency.
Related Tags