LG Electronics unveils new speakers, aiming for football seasons
Are you ready for some football?! LG Electronics hopes so.
Published Aug 20, 2015 11:30 AM CDT
|
Updated Wed, Jul 27 2022 3:46 AM CDT
As we quickly approach the start of the NFL football season, it looks like LG Electronics is preparing to help us hear the games better with new wireless audio products. LG showed off the P5 (NP5550), P7 (NP7550), and SoundPop 360 speakers, LG X-Boom Theater, and OM7550 Cube Speaker System.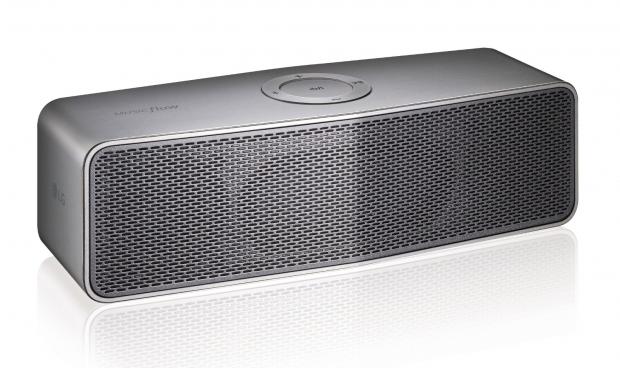 The LG Music Flow P5 is a 10-watt wireless speaker with up to eight hours of battery life, while the LG Music Flow P7 is a 20-watt speaker with up to 10 hours of battery life. The LG SoundPop 360, similar in design to a drinking tumbler, is a cylindrical speaker providing 360-degree range â€" and up to 20 hours of battery life.
The LG X-Boom Theater has a pair of tower speakers with up to 1000-watt total audio output, built-in subwoofers, and is paired with a 3D Blu-ray player including LG Smart TV functionality. The LG Cube Speaker System supports a 1000-watt speaker and subwoofer, two USB ports, portable audio input, Multipoint Bluetooth, and NFC.
The P5 will be released in October for $99 and P7 is available now with a $149 price tag. Pricing and launch date of the SoundPop 360 speaker will be released at a later date. The LG X-Boom is available for $499 in October, while the Cube Speaker System will cost $449 and be released in October.
â€ï¿½Todayâ€ï¿½s consumers are looking for entertainment innovations designed to match their ever-evolving lifestyles,â€ï¿½ said David VanderWaal, VP of marketing at LG Electronics. â€ï¿½Sports enthusiasts are among the most passionate when it comes to elevating their game, and LG's speakers offer the connectivity and versatility to help them create the ultimate game day experience. Whether it's a surround sound system for your home theater or augmented sound for tailgating, LG is enhancing the most exciting sporting events of the season to a level that can only be matched by being in the stadium itself."
Related Tags