The hotly anticipated Call of Duty: Black Ops 3 multiplayer beta is now live on PlayStation 4, and thousands of gamers are fragging it up as I type, but more than a few gamers have been left out in the cold thanks to a system glitch that prevents installation of the beta files. Luckily there's a simple fix.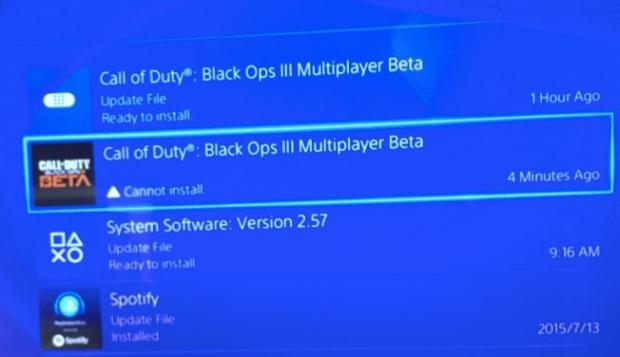 Gamers affected by the glitch have taken to Reddit and GameFAQS looking for answers, explaining that they are able to redeem the beta code and start downloading the 12GB beta, but the download interrupts at 90-95% with an "cannot install" error message.
The fix is simple: all you need to do is update your PlayStation 4's firmware to version 2.57 and the beta should install and startup just fine. Apparently the installation error pops up on PS4's running v2.55 due to compatibility issues, and neither Sony or Treyarch have Tweeted any mentions of the glitch or how to fix it. Considering a good portion of these gamers pre-ordered Black Ops 3 to get into the beta it would behoove the devs to get the word out as quick as possible.
The multiplayer beta features a slew of content including seven different game modes from Team Deathmatch, Capture the Flag and Demolition across three different maps. Players can perform new movement schemes like wall runs, power slides and thrust-jumps and customize their equipment loadouts via the create-a-class mechanic, and there are six different specialist roles to choose from.
Since the Black Ops 3 beta only lasts up until Sunday, August 23 gamers are eager to get in and start racking up kills right away--and hopefully you'll be able to join them thanks to the simple fix.