New VR game suite merges laser tag with immersive FPS chaos
Zero Latency's new VR sim suite lets gamers run around an open area and take part in simulated chaos.

Published Mon, Aug 17 2015 8:06 AM CDT
|
Updated Tue, Nov 3 2020 12:04 PM CST
As a kid I always dreamed about a more futuristic, immersive laser tag experience that would let me enter the game and gun down virtual baddies. Now with the advent of VR tech, the future is here, and a company called Zero Latency aims to transport players into a chaotic first-person shooter sim to make our childhood wishes come true.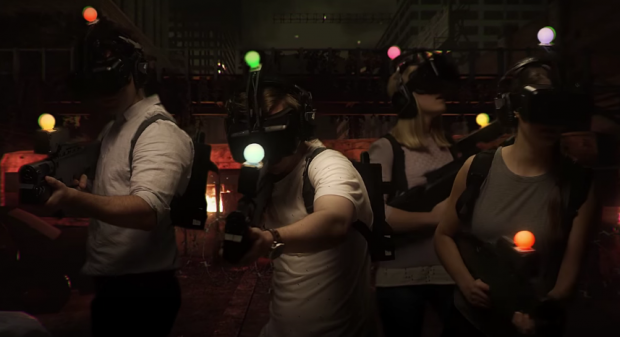 Zero Latency's VR gaming suite is comprised of an open 400square meter room specifically designed to let up six-players roam freely. Like any shooter sim experience every player has their own gear: an Oculus Rift DK2 headset stems to an Alienware Alpha PC stuffed in a backpack, and last but not least we have the wireless plastic gun whose VR version is a high-powered rifle that mows down zombies. Body movement is tracked by sensors outfitted on the Rift and the gun that curiously resemble Sony's PlayStation Move tech, relaying signals to mirror in-game transitions.
"Zero Latency VR is the experience the future of immersive gaming," the YouTube video description reads. Imagine a game that doesn't feel like a game. Where your body is the controller. And your mind believes it's real. The digital and real-world meshed seamlessly together, to transport you inside the virtual like never before. When you move, the game moves with you. Pure immersive mayhem with the freedom to get up and go."
The zombie sim is just the beginning, and with time there could be a huge array of games to choose from. Imagine full-on competitive shooters like Battlefield 4 or even Counter-Strike rendered in VR, running around with teammates in huge battle zones sniping enemies and engaging in explosive firefights in virtualized spaces. One of the most alluring aspects of Zero Latency is being able to run around and engage the virtual sim, rather than having to sit or even simulate motion with the Virtuix Omni treadmill.
Oh and in case you were afraid of walking into a wall or clashing with your teammates when trying to sprint away from zombies, Zero Latency has "in-game safety mechanisms to stop that happening".
Related Tags