Destiny: Xur is selling Gjallarhorn for the weekend
You might want to break out your Strange Coins--Xur has something special for you.

Published Fri, Aug 14 2015 5:07 AM CDT
|
Updated Tue, Nov 3 2020 12:04 PM CST
Starting today Destiny's mysterious interstellar merchant is selling one of the best exotic-class items in the game--the highly covered Gjallarhorn.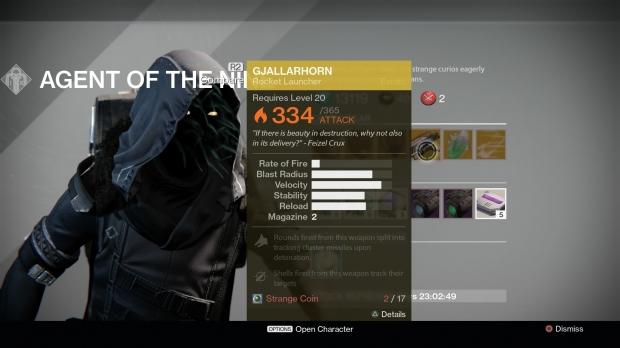 From now until Sunday morning Destiny players can pick up the infamously powerful Gjallarhorn for a pittance of 17 Strange Coins from Xur. This week the Agent can be found in the upper rightmost section of the Tower, in the barroom corner between the Shipwright and the Future War Cult vendor.
Up until now the Gjallarhorn rocket launcher has been an item that's had a supremely mystical quality about it. Every Guardian wants one--it's even argued that every Guardian needs one when facing the atrociously difficult Level 35 Prison of Elders boss Qodron. After weeks and weeks of lackluster rolls and common exotics that everyone already has or doesn't need, Bungie decides to just give Destiny players an early Christmas present and finally cave in to the demands.
Also if you happen to be in the market for an Insurmountable Skullfort, Light Beyond Nemesis or Achlyophage Symbiote, Xur has some amazing stat rolls on all three. But make sure you buy the Gjallarhorn first...unless you have coins for days.

In celebration of the event the official Destiny Reddit community has made it "rain" Gjallarhorns in their banner, and even make the default mouse pointer into a Gjally.
Related Tags