Intel's next-gen Xeon platform will support 6-channel DDR4 RAM in 2017
Intel's next-gen Xeon platform set for release in 2017 will be simply insane.

Published Sun, May 24 2015 7:25 PM CDT
|
Updated Tue, Nov 3 2020 12:07 PM CST
I really have to stop reading about Intel's upcoming Xeon platforms, as I'm just going to disappoint myself that I'll never own one. The chipmaker is teasing its next-gen Xeon Skylake platform: Purley. The new architecture is going to be quite the leap over the current generation, with support for 6-channel DDR4, up from the quad-channel DDR4 support we have today.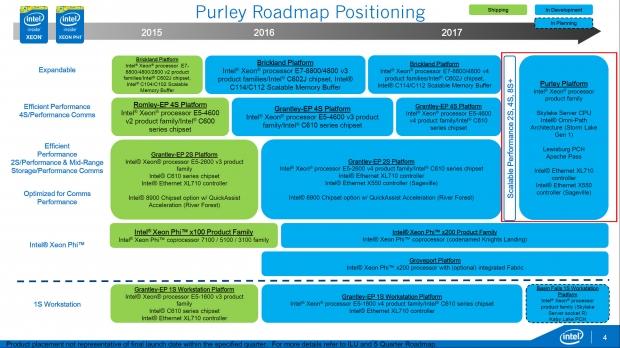 Skylake Purley will be one of the biggest updates to the Xeon platform in quite a long time, with Skylake EX Purley supporting not just 6-channel DDR4, but up to eight processors that support 28 cores per chip, too. We also have the AVX 512 instruction set that will include the 100G OmniPath interconnect.
The OmniPath interconnect is something you've probably never heard of before, which is something that will be called Storm Lake. The PCH itself will be codenamed Lewisburg, with it sporting updated Ethernet controllers. The TDP that Skylake EX Purley processors will have will be between 45W and 165W, with CPUs slotting into something called Socket P. Another major update to the platform will see the number of PCIe slots increased to 48, with x4, x8 and x16 divisions allowed, which is a big upgrade to the platform.
Related Tags