Tyan shows off its HPC and OpenPOWER servers at NVIDIA GTC 2015
Tyan has an impressive lineup up heavy-duty HPC platforms shown at NVIDIA GTC 2015.
Published Fri, Mar 20 2015 7:20 PM CDT
|
Updated Tue, Nov 3 2020 12:09 PM CST
GTC 2015 - At NVIDIA GTC 2015, Tyan displays two of its heavy-duty HPC platforms. While most companies displayed GPU platforms, Tyan was there with its powerful High Performance Computing Platforms.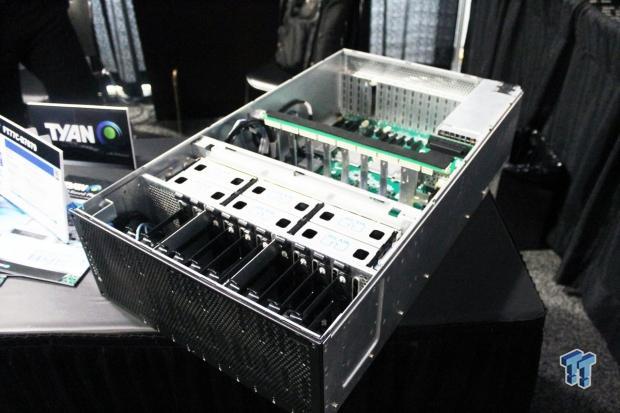 The first system is a FT77C-B7079 4U platform designed for up to 8x Intel Xeon Phi Coprocessors. This is a dual CPU socket system using Intel E5-2600 v3 processors and fast DDR4 memory.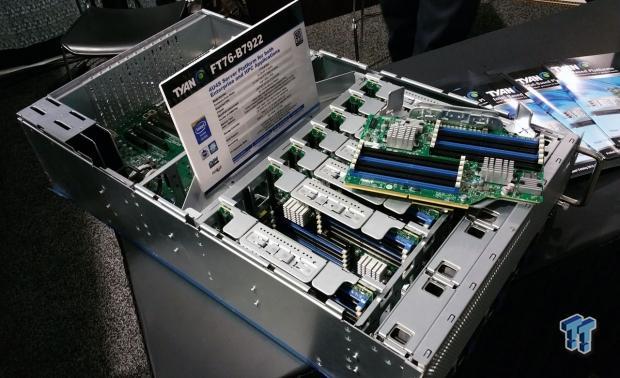 Next, we found a real powerhouse and the only Quad CPU system that we saw at NVIDA GTC 2015. This system is called the FT76-B7922 4U4S, server platform for both Enterprise and HPC applications. The CPU's used on this system are 4x Xeon E7-4800 v3 processors. Resent leaks of data on these CPU's shows the E7-4800 v3's can go as high as 14 cores each which could give this system 56 cores / 112 threads. For memory load-out, it includes a massive capability of up to 6.144TB of DDR4 in 8x memory risers with 96 memory slots.
We also spotted Tyan's TN71-BP012 2U OpenPOWER platform for CSP deployment. This system uses IBM POWER8 Turismo SCM processors and can handle up to 1TB of DDR3.
Related Tags