Hong Kong man caught smuggling 94 iPhones into mainland China
Need more iPhones? Just strap them to your body and cross the border.
Published Tue, Jan 13 2015 10:00 AM CST
|
Updated Tue, Nov 3 2020 12:10 PM CST
What seemed to be a clever idea backfired on a man from Hong Kong. Chinese customs officials intercepted a Hong Kong man at the border with 94 iPhones, valued at over $49,000 (300,000 yuan), strapped to his body with tape and plastic. The event unfolded at the Futian crossing into Shenzhen as the man walked with two shopping bags. His labored breathing indicated he was bearing a heavy load, but after a cursory inspection officials determined there wasn't anything significant in his bags. A quick pass through a metal detector and customs officials found the culprit.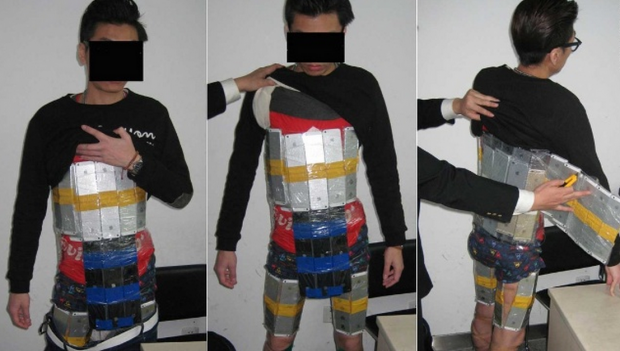 The man had a total of 94 iPhone 6 and iPhone 5S models strapped across his thighs, crotch, and body. iPhones are undoubtedly popular, many wait in line for days and pay exorbitant amounts of money for hard-to-find models around the globe. In Mainland China they also enjoy robust sales, with over 1 million iPhone and iPhone 6 units sold in six hours during the launch. This leads one to wonder just why they would be smuggling them when they are publicly available. It all boils down to taxes. Higher import taxes in Mainland China have driven a bustling electronics smuggling trade from Hong Kong. Since December alone, over 18 phone mules have been intercepted with over 282 iPhones, among other electronic goods.
There is no word on the fate of the unidentified phone mule, but he is currently being detained for questioning. It is reported that he has several smuggling incidents 'under his belt' already, so he will likely face prison time.
Related Tags