CES 2015 - Fully optioned with dual NVIDIA GTX 980m video cards and up to 32GB of RAM supporting a 1080p 18" display, MSI's newest addition to the gaming world is the GT80 Titan laptop and it even comes with a full Cherry MX Brown keyboard - by SteelSeries.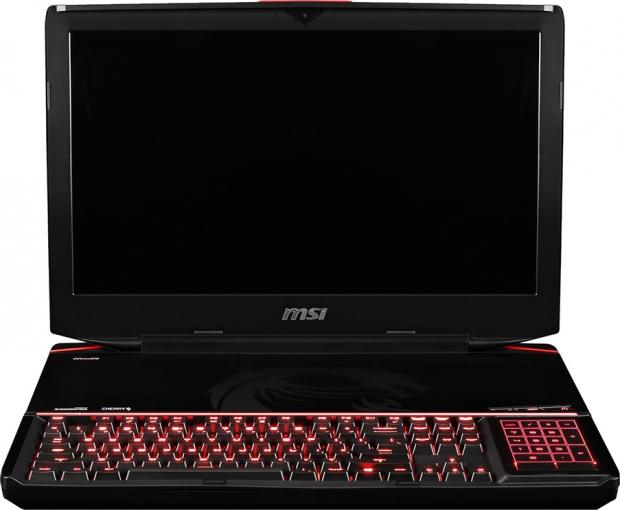 Weighing in at 10 pounds, this beast has upgradeability in mind. With the ability to swap out your dual video cards for NVIDIA MXM mobile graphics, the laptop has a panel on top allowing you access to M.2 SSD slots, RAM bays and a 2.5-inch drive bay. According to MSI, their 350-watt power brick and dual-GTX 980 combo can provide almost the same performance as a single desktop GTX 980 card - further mentioning that the GT80 can support three screens, providing users with one HDMI and two DisplayPort connections.
The system MSI has on display at CES will set back users a whopping $3,700 due to its Intel Extreme 4980HQ CPU, 24GB of RAM, 1TB HDD and two 128GB M.2 SSDs running in RAID. However if the base model is more your flavor, you can expect to pony up $3,300 for your very own model.
Another cool feature of this keyboard is the numpad to the right of the keyboard - with the ability to double as a track-pad, this haptic feedback section is a cool addition.
If you're worried about all this tech getting a little too hot, MSI claim in their press release that this beast "includes a super-efficient dual fan cooling system drawing heat from both video cards and processor with its 8-heat pipe design."