OCZ Storage Solutions Z-Drive 6000 NVMe SSD on display at CES 2015
The Z-Drive 6000 promises to deliver the best of NVMe SSD goodness with 3GB/s of sequential read speed and 750,000 random read IOPS.
Published Thu, Jan 8 2015 7:40 PM CST
|
Updated Tue, Nov 3 2020 12:11 PM CST
CES 2015 -OCZ Storage Solutions displayed the Z-Drive 6000 NVMe SSD in their suite at CES 2015. The Z-Drive 6000 sports speeds of 3,000 MB/s for sequential read and 2,000 MB/s for sequential write workloads. Random reads weigh in at an outstanding 700,000 IOPS, and random writes are equally impressive at 175,000 IOPS. The Z-Drive 6000 will provide 1-3 DWPD, which is becoming the standard for most datacenter SSDs, largely due to increased density. The Z-Drive 6000 utilizes the NVMe interface, covered in detail in our Defining NVMe article.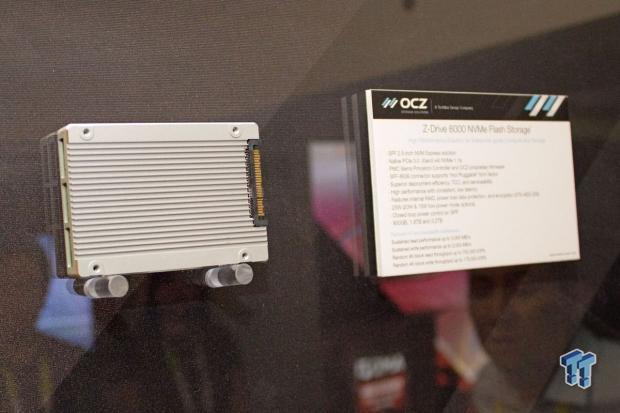 The Z-Drive 6000 comes in capacities of 800GB, 1.6TB and 3.2TB in the small 2.5" 15mm form factor. The Z-Drive leverages the proven PMC-Sierra Princeton controller running OCZ-proprietary firmware. The Z-Drive 6000 is certified for NVMe specification 1.1b on the UNH-IOL integrator list. The drive also features all the normal enterprise trimmings, such as encryption and internal data redundancy.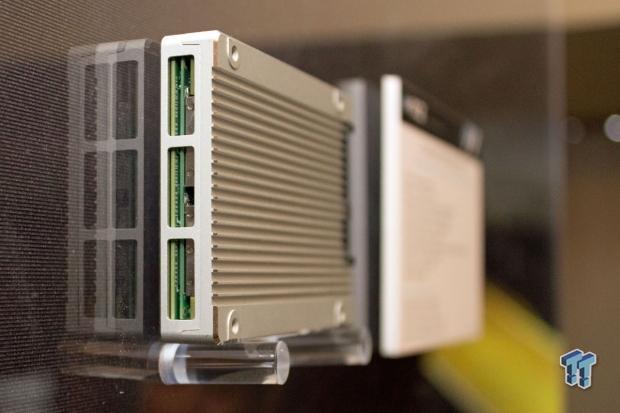 The end of the SSD reveals a row of open slots that take advantage of the native linear airflow patterns inside the server. 2.5" PCIe SSDs use ExpressBay, a multi-protocol externally accessible storage slot that supports 2.5" or 3.5" devices compatible with the SFF-8639 connector. Standard drive bays are limited to 9 Watts of power, but ExpressBay bumps that up to 25 Watts, which is also the limit for the Z-Drive 6000. The Z-Drive also features optional lower power states. ExpressBay also provides additional airflow to dissipaten more heat. The unique airflow implementation for the Z-Drive 6000 will help to keep the drive cool and avoid any thermal throttling issues.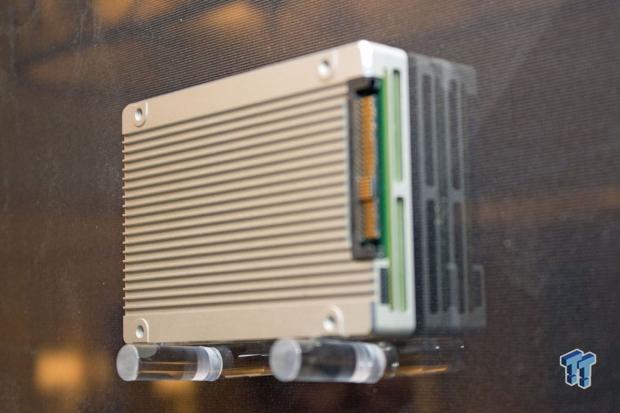 My poor photography skills are on display, but we note another set of slots for airflow underneath the SFF-8639 connector. SFF-8639 is a new connector that serves as the Swiss army knife of storage connections. SFF-8639 is a multifunction 6x unshielded connector defined by the SSD Form Factor Workgroup (SSD FFWG). SFF-8639 supports single port SATA, dual port SATA Express, dual port SAS, MultiLink SAS, and up to 4-port PCIe device configurations. The Z-Drive connects via a PCIe 3.0 x4 connection.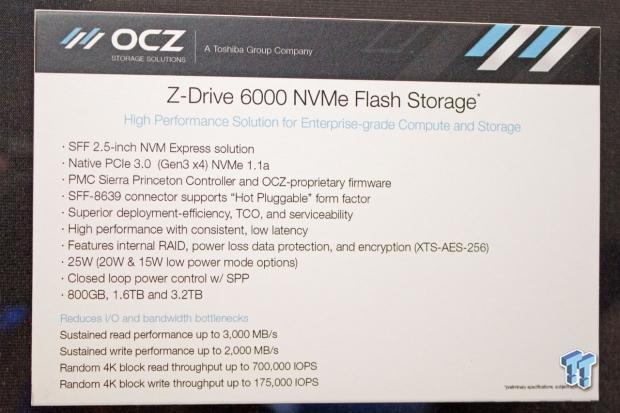 General availability is scheduled for early this year. As always, head over to our IT/Datacenter section for the latest in competitive performance analysis of the leading enterprise storage products, including 2.5" PCIe SSDs.
Related Tags