Corsair announces Corsair Gaming, a new division for PC hardware
It's finally happening! Corsair is making its beautiful new K95 RGB gaming keyboard official, and much more.

Published Mon, Sep 22 2014 7:38 PM CDT
|
Updated Tue, Nov 3 2020 12:14 PM CST
Corsair, mostly known for its rock solid power supplies, RAM and coolers, has announced a new division of the company: Corsair Gaming. Corsair Gaming has one goal in mind: "the elevation of PC gaming and the development of high-performance PC peripherals".
Andy Paul, President and CEO of Corsair explains it best: "For 20 years, Corsair has equipped gamers with high performance, precision hardware to build their dream PCs. Corsair Gaming now introduces new ways for PC gamers to optimize how they play. We've brought together our engineering expertise and our passion for gaming to build a line of products that delivers performance, customized for however you play". But what's the good of a new division, without a slew of new products?
Starting with the new Gaming RGB Keyboards, Corsair has three new button-mashing devices ready for disposal. The K95 RGB, K70 RGB and K65 RGB. The new RGB Gaming Keyboards all feature color-customizable designs, with 16.8 million color backlighting, are the "headliners of the Corsair Gaming brand". All three of the new keyboards feature German-made Cherry MX RGB mechanical keys, which is an exclusive-to-launch partnership with Cherry.
These keyboards aren't just your run-of-the-mill gaming keyboards, as they feature "Cherry's self-cleaning, corrosion-proof Gold-Crosspoint electrical contacts, and with over five billion sold, Cherry MX mechanical key switches are the premier choice of professional gamers and enthusiasts who demand uncompromising reliability and performance". All three keyboards support complete macro programmability on each and every key, with the K95 RGB flagship keyboard offering an "additional array of 18 dedicated macro keys and dedicated media-keys".
Corsair Gaming will be offering up the K95 RGB with an MSRP of $189.99, the K70 RGB for $169.99, and finally the Best Buy exclusive (in the US at least) K65 RGB for $149.99.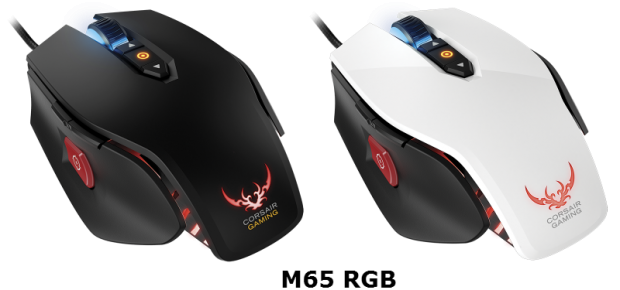 Moving onto the new RGB Gaming Mice, where we have a single mouse, but two colors on offer. The M65 RGB Gaming Mouse features Corsair Gaming's "focus on RGB color customization" and offers built-in, three-zone 16.8 million color backlighting. We have an aluminum unibody chassis, 8200 DPI gaming-grand laser sensor, a sniper button "ensuring the most critical of shots stays on target" and it is wired. Corsair is pricing the new M65 RGB Gaming Mouse at an MSRP of $69.99.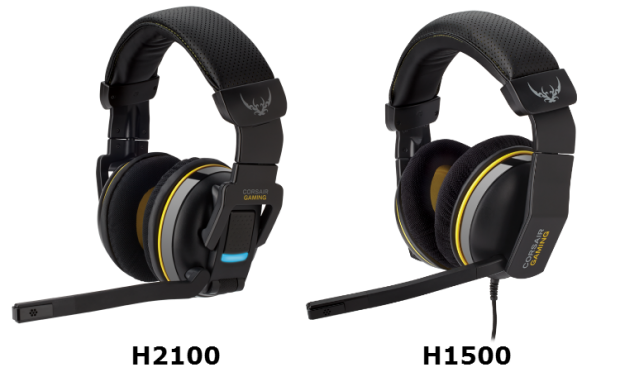 Finally, we have two new gaming headsets unveiled by Corsair, with the H2100 and H1500 Gaming Headsets. The H1200 is a wireless PC gaming headset, while the H1500 offers gaming audio with a wire. Both of the Corsair Gaming Headsets offer up Dolby 7.1 surround sound for "accurate positional audio that captures the acoustic environment of every moment of gameplay". Both headsets feature micro-fiber wrapped memory foam earpads which should have you comfortable for those long gaming sessions.
Inside, oversized 50mm neodymium drivers are blasting audio into your ears, with an advanced unidirectional noise-cancelling microphone making in-game communications nice and clear. The H2100 offers wireless freedom for up to 40 feet, with a nice 10 hours or more per charge. Both headsets are quite cheap, with the wired H1500 priced at $79.99, while the wireless H2100 is priced at $99.99.
Related Tags