NASA's Voyager I swims into interstellar space
NASA confirms that its Voyager I spacecraft is about to slide into interstellar space, over 11 billion miles from Earth.

Published Wed, Jul 9 2014 2:25 AM CDT
|
Updated Tue, Nov 3 2020 12:15 PM CST
After a 37-year journey through our solar system, NASA's Voyager I has been hit by a third solar 'tsunami'. These solar tsunamis are coming from our sun, in the form of coronal mass ejections - in other words, shock waves from massive, violent eruptions on our sun.
Since 2012, there have been three of these CMEs, with the third one erupting on Monday. These eruptions have been helping NASA confirm something it proposed late last year: that Voyager is the first craft from Earth to travel into interstellar space. But what is interstellar space? Well, it's an area that is just beyond what is known as our heliosphere.
The heliosphere is an area where solar wind pushes back the dense plasma of space, in something that resembles a protective bubble. This plasma is the result of the death of stars millions of years ago. What should really make your scratch your noggin' is that the plasma found outside of the heliosphere, and in interstellar space, is 40 times denser than the plasma inside of the heliosphere.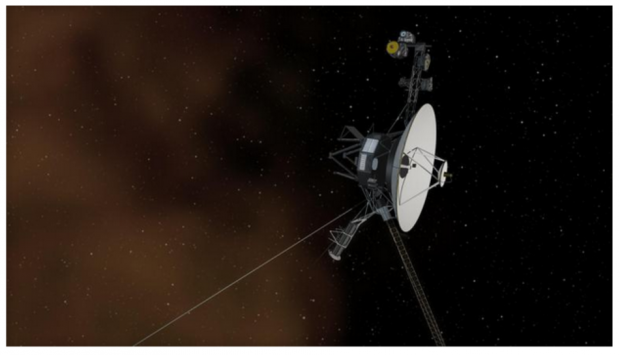 Voyager I has various instruments to measure all of this, blasting it back to Earth so that NASA can confirm that its craft has journeyed into the denser, thicker plasma, or interstellar space. Scientists know it has reached this point because the thicker plasma oscillates at a faster rate than the plasma found within the heliosphere. This produces a different frequency when it it hit by CMEs from the sun.
Ed Stone from the California Institute of Technology explains: "The tsunami wave rings the plasma like a bell. While the plasma wave instrument lets us measure the frequency of this ringing, the cosmic ray instrument reveals what struck the bell -- the shock wave from the sun. Normally, interstellar space is like a quiet lake. But when our sun has a burst, it sends a shock wave outward that reaches Voyager about a year later. The wave causes the plasma surrounding the spacecraft to sing".
Related Tags