Silicon Motion expands SSD portfolio with new eMMC and SATA 6Gb/s
Silicon Motion adds new products to better serve ever increasing market of devices that require instant boot-up and reduced software load times.
Published Mon, Mar 31 2014 7:11 AM CDT
|
Updated Tue, Nov 3 2020 12:17 PM CST
Today, at the Electronics Engineering Live! Conference and Expo in San Jose, CA, Silicon Motion Technology Corporation (NasdaqGS: SIMO), manufacturer of NAND flash controllers for solid state storage devices, will announce new additions to its Ferri portfolio with single-package Ferri-eMMC™ and ultra-high performance SATA 6Gb/s FerriSSD embedded memory solutions.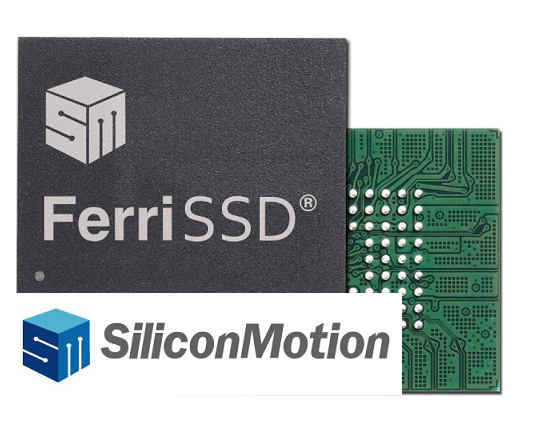 The Ferri-eMMC is available in two flavors, the SM667 for applications that require up to 30K P/E cycles and the SM661 for applications that do not require such high reliability. The new controllers are designed for a wide range of embedded applications and provide for more flexible PCB design and low-cost manufacturing. They are available in configurations ranging from 2GB to 32GB.
The new SATA 6Gb/s Ferri-SSD embedded memory series also has two models, the SM659 and SM619. Embedded DRAM extends the SSD life and delivers best-in-class performance of up to 80K random IOPs. These solutions leverage Silicon Motion technologies including PowerShield, DataPhoenix, Intelligent Scan DataRefresh, SSDLifeGuard health-monitoring, and remote firmware updates. They are available in 8GB to 64GB configurations.
According to Wallace Kou, President and CEO of Silicon Motion, there is a wide range of applications for their embedded products. "With our expanded product range, we are better able to bring industrial-grade and commercial-grade, single-package SSD solutions to an increasingly wide range of embedded applications, such as server, thin client, POS, office automation, HMI devices, factory automation, gaming, medical equipment, surveillance and in-vehicle infotainment that require eMMC 4.5 or faster SATA 3.1 performance."
Related Tags