Corsair unveils three new Carbide Series SPEC Gaming Chassis
Corsair's new SPEC line of chassis from its Carbide series are very industrial feeling and provide a ton of space for today's gaming enthusiast.
Published Tue, Mar 18 2014 12:07 PM CDT
|
Updated Tue, Nov 3 2020 12:18 PM CST
Today, Corsair announced the launch of three new chassis to its Carbide Series of PC gaming chassis. The new SPEC line of PC gaming cases feature a very aggressive design while still retaining an ultra-modern look. The new SPEC-01, SPEC-02, and SPEC-03 feature amenities for the hard-core air-cooling junkie as well as ample space for those who chose to take a walk down the path of liquid-cooling.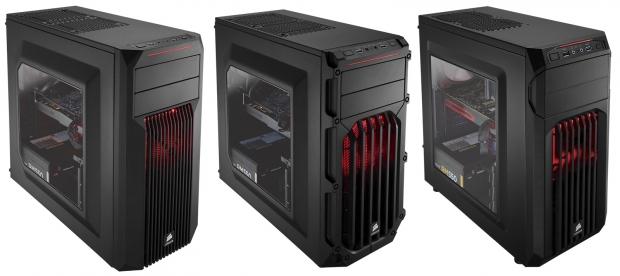 Corsair says that it has designed all three chassis with the extreme gamer in mind, and has stripped away all of the unnecessary clutter which has left the SPEC series lean, mean, and ready for even the most intense gaming PC setup. The chassis support today's extra-long video cards as well as specific mounting points for SSD's. "Entry-level cases are usually antiquated, old designs. Some still have room for floppy drives," said George Makris, Product Manager at Corsair. "With the addition of the Carbide Series SPEC to our line, gamers can now get a case with modern features and great styling combined with superior cooling and expandability at a fantastic price."
Priced at under $50, the SPEC-01 is capable of supporting Mini-ITX through ATX form-factor motherboards as well as 4 storage drives in either 2.5-inch or 3.5-inch sizes. Dual 5.25-inch drive bays also adorn the chassis, and the front I/O panel supports a single USB 3.0 port. The SPEC-01 ships with a single 120mm red LED fan, and the necessary connectors, mounting hardware, and a tool-less design that is sure to appease even the most frugal PC gamer.
The SPEC-03 and SPEC-03 are basically the same chassis with minor changes made inside, and a different exterior design. Both chassis support Mini-ITC through ATX motherboards, and feature dual USB 3.0 ports on the front of the cases. Support for three 3.5-inch hard drives and two 2.5-inch SSDs is available, and both chassis feature seven expansion slots. The SPEC-02 ships with dual 120mm fans while the SPEC-03 ships with three. The SPEC-02 and SPEC-03 cases retail for under $60, and all three chassis come with a 2-year warranty.
"There's plenty of room to expand inside too, with support for even the longest video cards, front fan mounts for dual 140mm and 120mm fans, and seven expansion slots. Whatever version of SPEC gamers choose, they will have a case with the flexibility to handle years of upgrades," Corsair said in a release.
Related Tags